These Christmas Bagels make a great Christmas Breakfast or brunch idea!  They are so pretty & festive! Better yet, they are delicious! I couldn't get enough of them!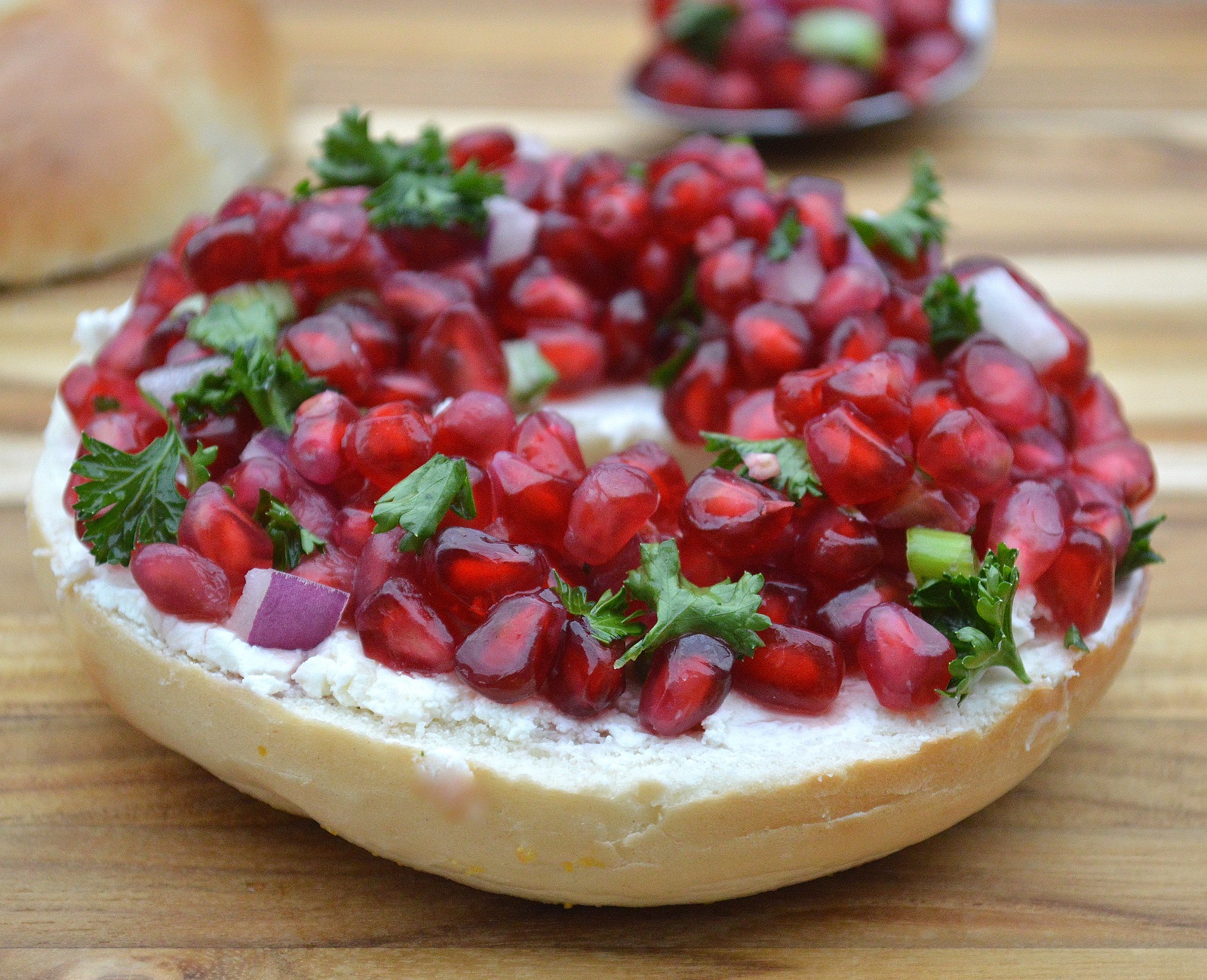 In my last post, I shared an easy Pomegranate Salsa.  On a whim, I decided to drizzle some of the honey lime syrup I made on a bagel, top that with cream cheese (I do love my Philly Cream Cheese…I am a Philly girl after all) then top it with some of the Pomegranate Salsa. Oh-my-gosh was this delicious! I literally couldn't stop eating it! To the point, I ate nothing again until dinner because I ate so much, lol! I just kept going back for more.
How about serving festive Christmas Bagels for Christmas brunch or breakfast?  They make a pretty good snack, are a great offering for your vegetarian friends and kids would enjoy them as well. I personally loved the punch from the jalapenos and red onions.  If you decide to make these for kids, you may want to leave out the onion and jalapeno and dice up some green pepper or simply just use scallion tops or parsley for the green.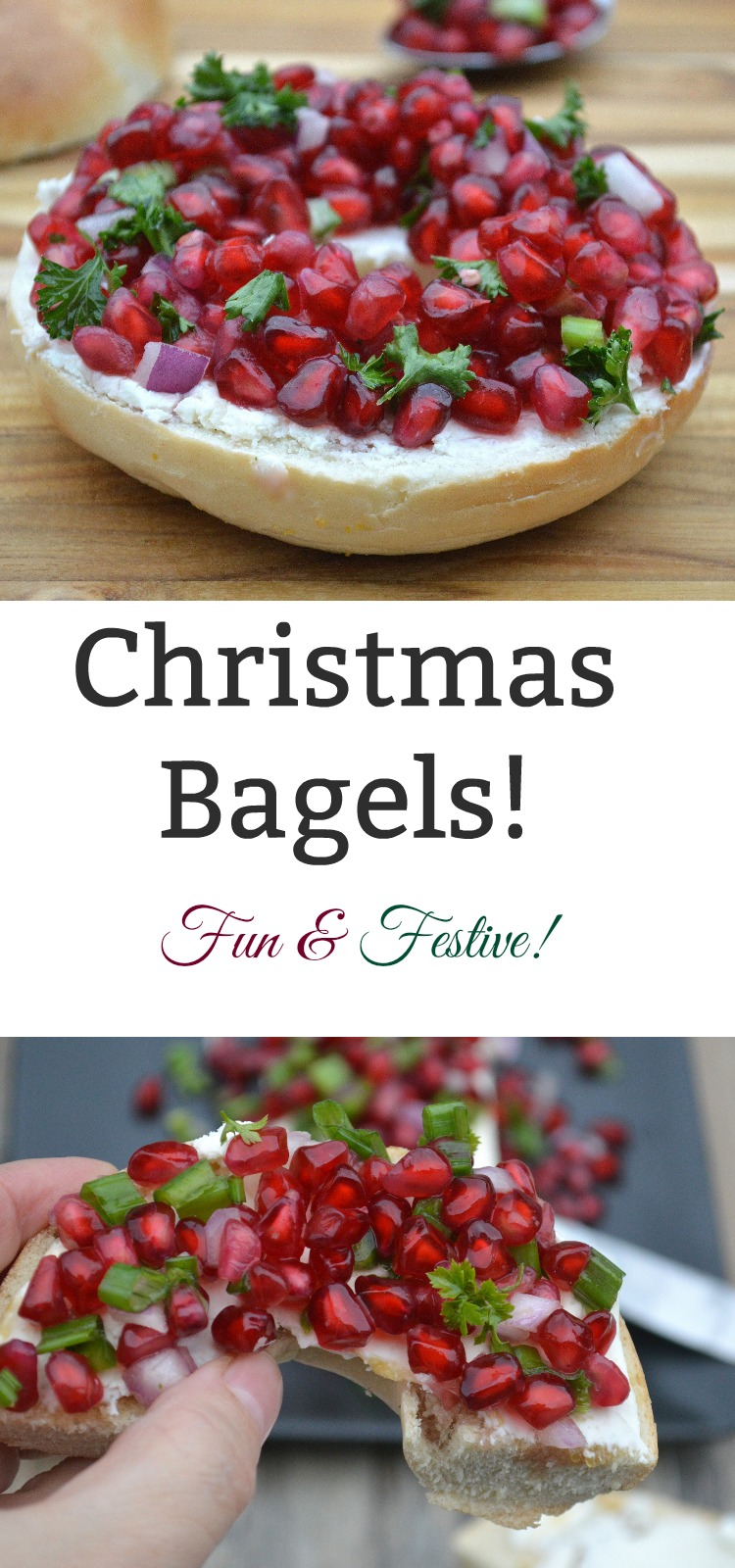 Pomegranates are so good for you and have such an interesting flavor and texture to them that adding these fun and tasty Christmas Bagels to your table, once pomegranates become available each season, will be something you do on more than just Christmas!! Even though they really do look like a Christmas wreath! Love it!
Hope your plans for the holidays are falling into place. So much to do!
Enjoy!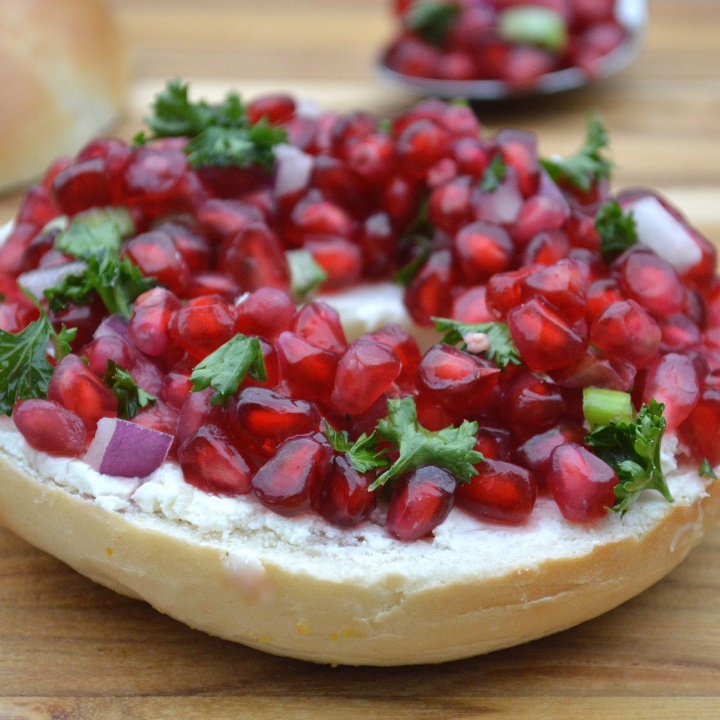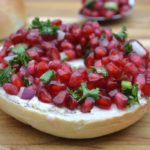 Print Recipe
Festive Christmas Bagels
Instructions
Cut your bagels in half. Decide if you want them toasted or not (I like mine not toasted).

Using a spoon, spread a bit of the honey lime syrup onto each bagel half, then spread a nice amount of plain cream cheese onto each half.

Top with Pomegranate Salsa, pushing down just a bit to help secure it and enjoy!