Move over traditional spinach balls and make way for these cheesy Mozzarella Zucchini Balls! These lil' bites are perfect for holiday entertaining, even the kids enjoy them!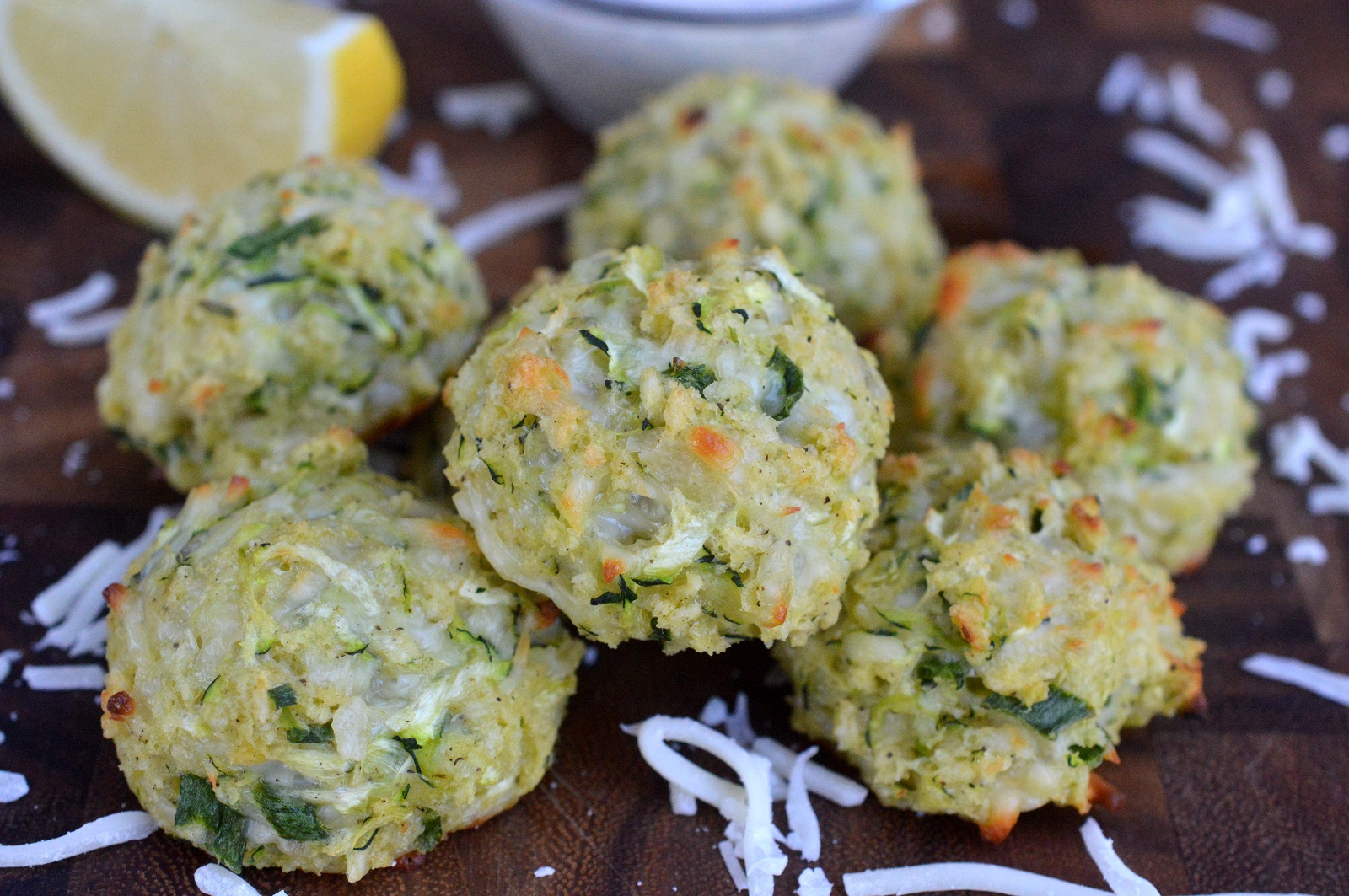 Ever notice that people tend to crowd around the warm cheesy appetizers at gatherings?
Hot cheesy dips like Buffalo Chicken Dip or Spinach & Artichoke Dip always draw a crowd! I've been making this  5 Ingredient Hot Onion Dip forever and people still go bonkers for it. A newer hot dip I make is this Beef Enchilada Dip, again…People love it!
Cheesy Stuffed Mushrooms and Spinach Balls are always a hit as well (I even make a gluten-free Spinach Ball using rice as the binder…so good!  If you want to change up the traditional Spinach Ball why not try these Mozzarella Zucchini Balls out? You can add more cheese if you wish and you can change the type of cheese to a cheddar blend or Pepper Jack. I have also made them with Gruyere. The kids like them best however with Mozzarella cheese, and I have to say I do too, it's just so cheesy!
All this talk about cheese brings me to share with you my recent experience on this year's New York Dairy Tour with The American Dairy Association Northeast (ADANE). This is my 4th time taking part in a Dairy Tour and each time I learn new and fascinating information and, my respect and awe of the passion, dedication, work-ethic and animal care by dairy farmers grows.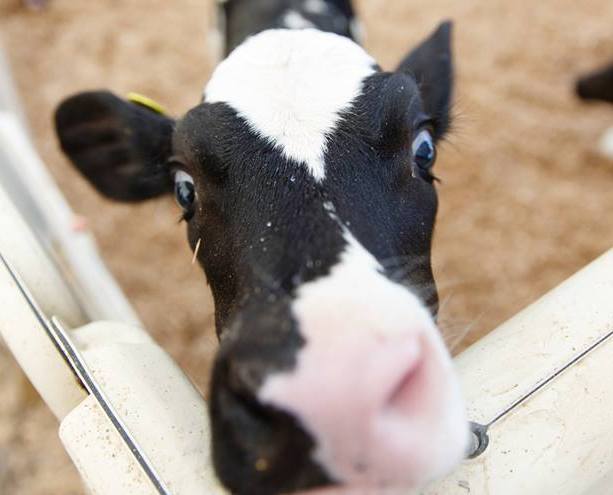 It all starts with wholesome, delicious, nutritious cow's milk
Without milk, we wouldn't have butter, cheese, yogurt and all the staples we rely on a daily basis. I mean come on…life without butter or cheese?? No thank you, lol!  I am so very grateful to the farmers who work tirelessly every day of the year producing quality milk with care which ends up on the table for my family. I am pretty sure not a single day has ever gone by without some form of dairy (or more likely multiple forms) being enjoyed by me.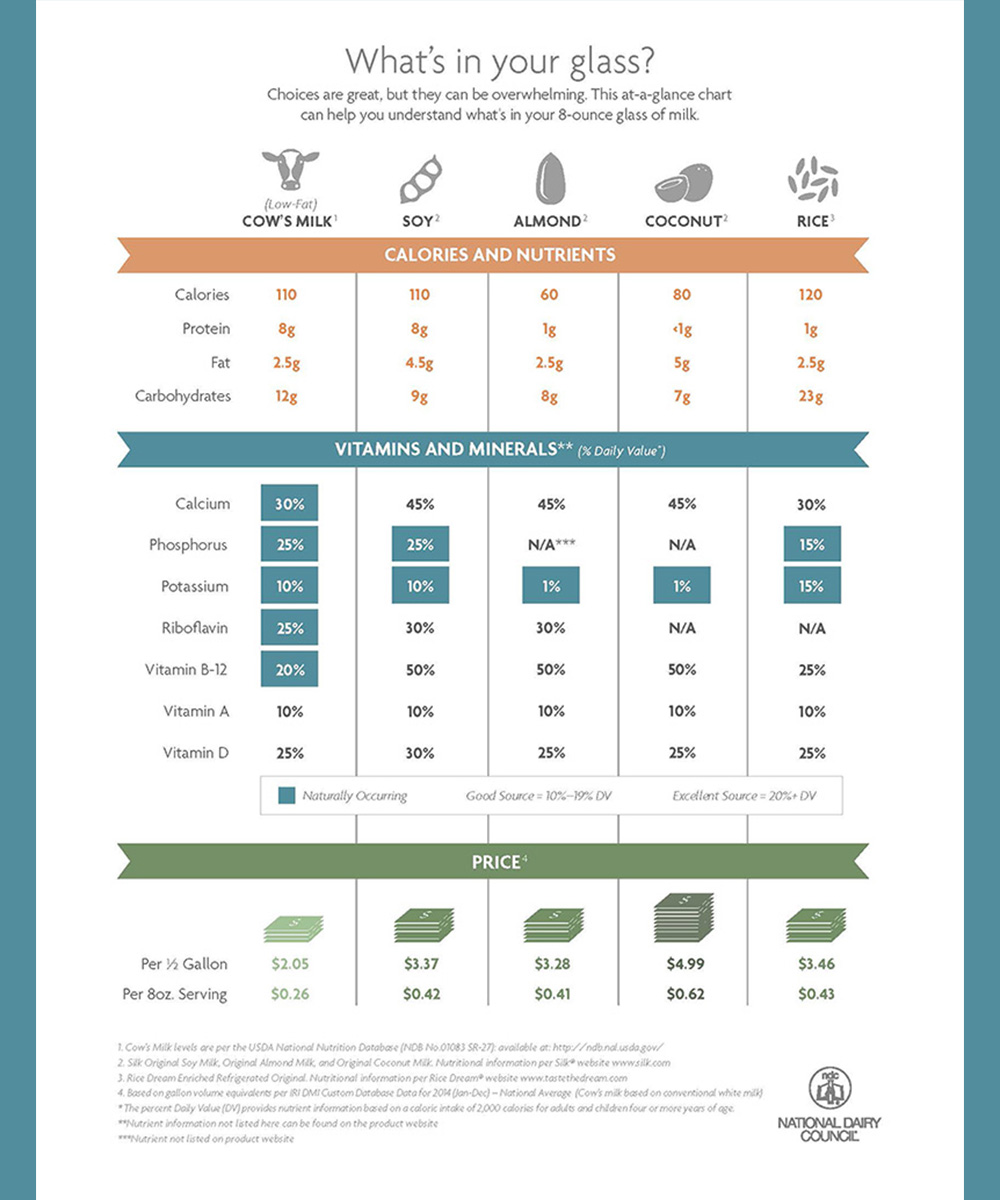 Some food for thought when it comes to dairy.
Cow comfort is a top priority for dairy farmers, the more comfortable the ladies are, the more milk they produce.
Cow nutrition is taken very seriously, a milking cow eats about 100 pounds a day. Farmers work with vets and animal nutritionists to find the best mix of silage (comes from the entire corn stalk), hay, grain, protein, and even bits of chocolate…cows love chocolate! And of course, they drink lots and lots of fresh clean water.
Milk products, whether flavored or not, have an unparalleled nutrient package. 9 essential nutrients including high-quality protein, calcium, potassium and vitamin D, are in every glass. And at an average of 25 cents per cup, milk offers a nutritional bargain at an affordable price that you can't pass up.
Recovering with chocolate milk after a workout or run is a triple win! It has the perfect carb to protein ratio athletes need to refuel & repair the body. It has electrolytes & 9 essential nutrients & it tastes GREAT! Plus its more affordable and accessible vs specialized replacement drinks. 20+ studies support the benefits of recovering with the high-quality protein & nutrients in low-fat chocolate milk. Athletes know how you refuel after strenuous exercise makes a difference in how well you perform next workout/competition.
Every choice made by dairy farmers affects their present and their future. Dairy farmers live on or near the land that they farm, they understand the importance of protecting natural resources. Practicing environmental stewardship is not only good for communities, their families, and their economic bottom line—it's the right thing to do.
Dairy farmers contribute to a sustainable food system. More milk is produced today with only 9 million cows than with 26 million cows in 1944. Dairy Farmers support practices that make economic sense, help the environment and are socially responsible to our communities and our world. Recycling water, harnessing the power of cow manure via methane digesters to produce electricity, taking in food waste from facilities, schools, restaurants and more to also use in methane digesters to produce electricity
Today's farmers are educated, often via an ivy league college. They employ cutting-edge science and equipment and are extremely savvy. Let's face it no one gets into farming to get rich. Farmers must have multiple pillars of income and be smart about every move they make to survive. They waste nothing. Where would we be without our farmers? I do my best to never take them for granted.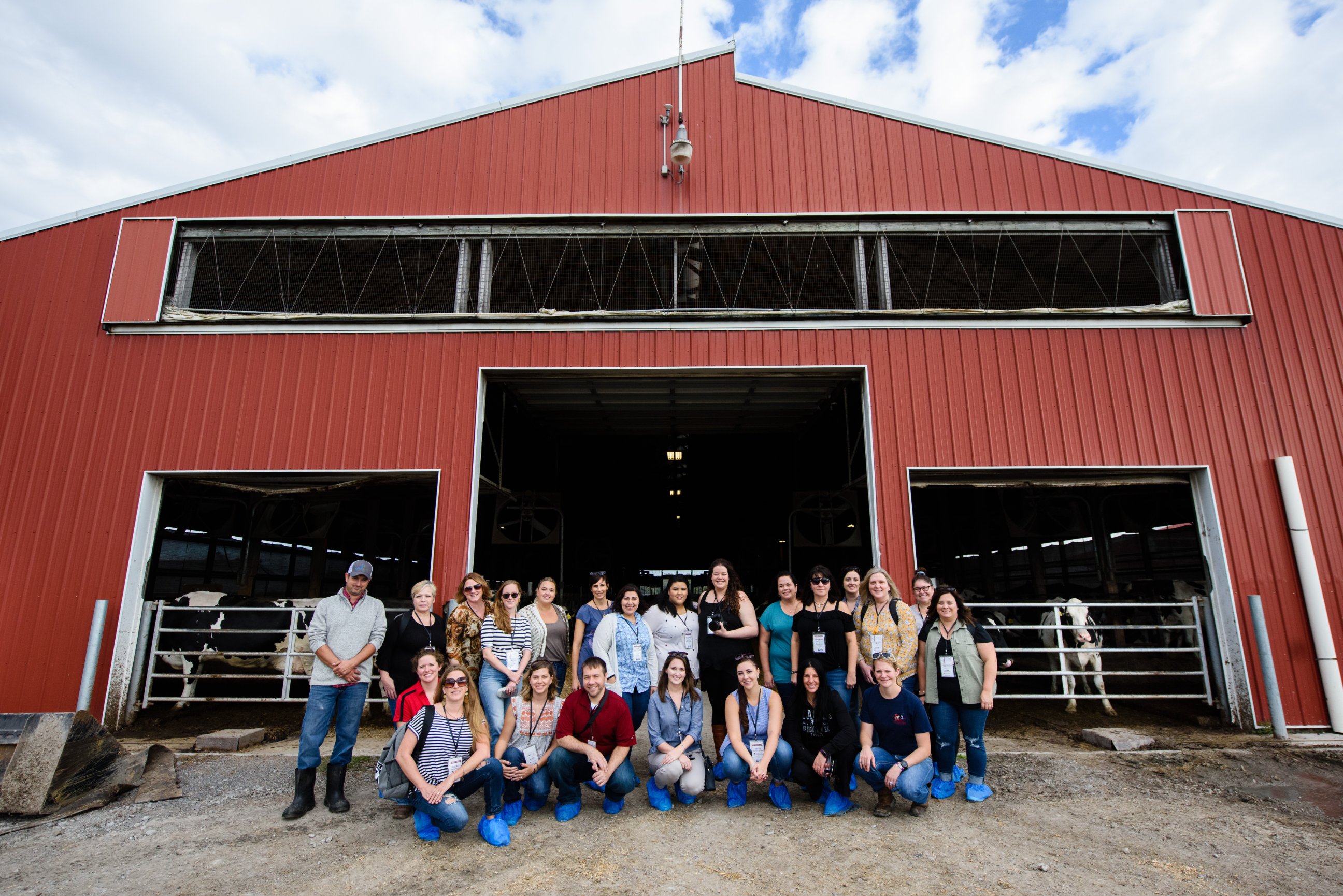 The #NYDairyTour18 kicked off with an amazing dinner at the award-winning FLX Table. And yes! You guessed it every course featured dairy in some fashion. My favorites were the cheese curds (Swoon!!…Stay tuned I have a recipe coming for those this month) AND the fresh pasta tossed in the cheese wheel from the Muranda Cheese Company (Seriously, I could have eaten 3 helpings!).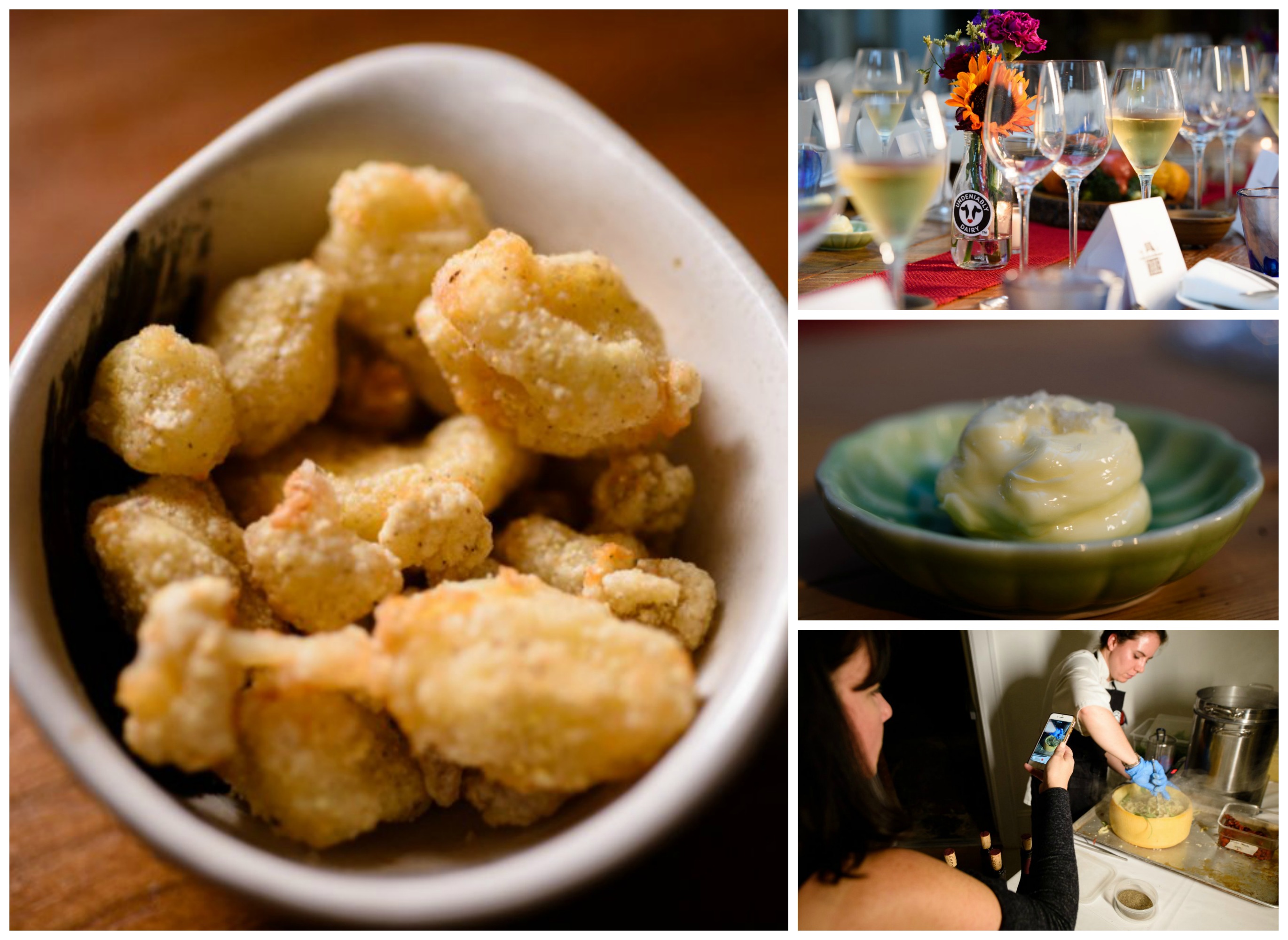 The following day we visited Ivy Lakes Dairy Farm (owned by three young couples who met in college) where we learned about cow comfort and nutrition, next we headed to Shtayburne Dairy Farm, an Amish farm, where we saw cheese curds being made (I bought a bunch to bring home from their well-stocked store) and had some time to cuddle with a calf named Cheddar.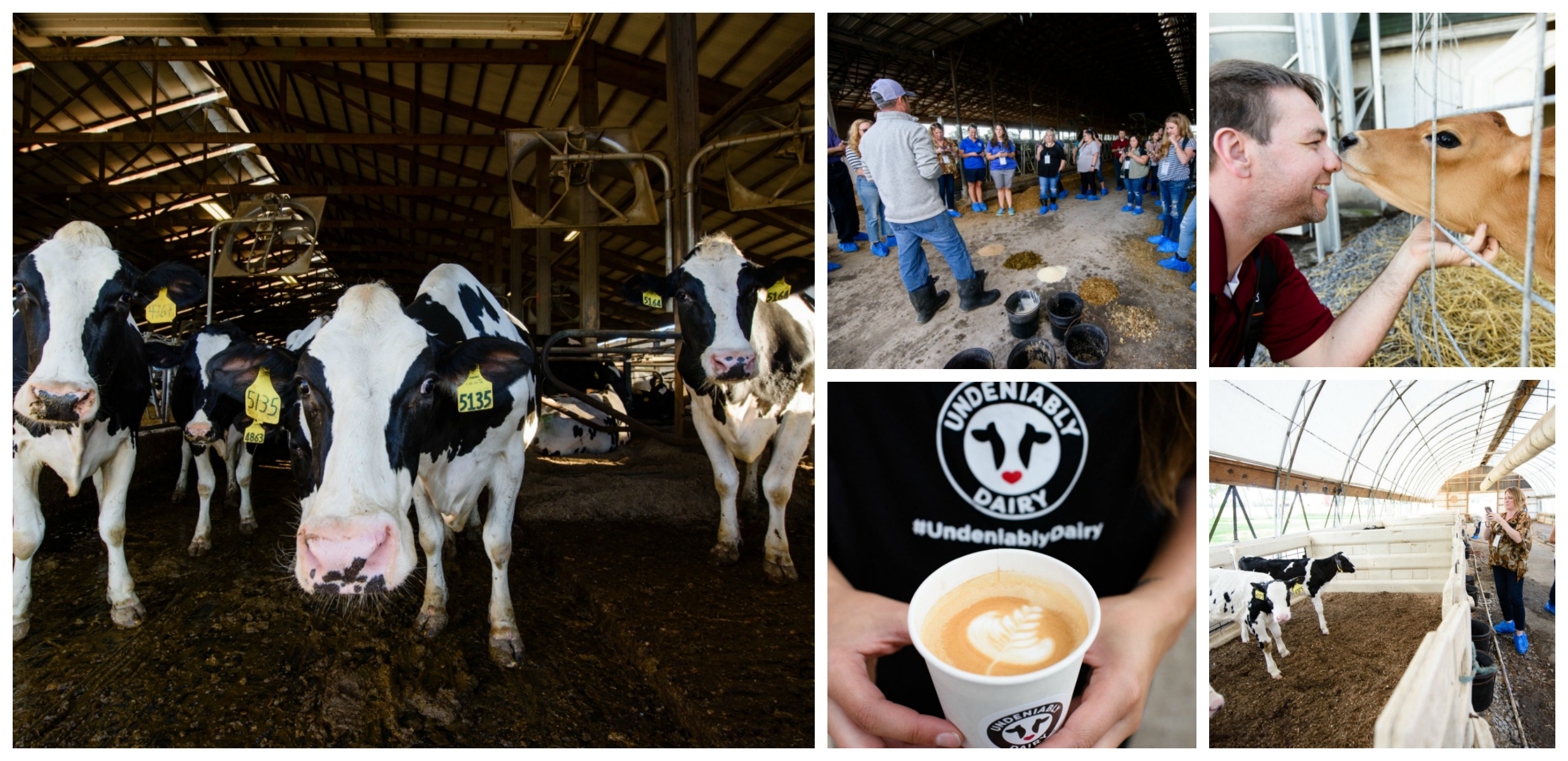 We then headed to lunch at Finger Lakes Distilling which is a must stop when in the Finger Lakes. The view of the lake and their offerings will leave you happy you did! They crafted a number of libations for us to try that included dairy. Southern Milk Punch (yummo) and my favorite which was a warm bourbon-milk drink of some sort…I have to track that recipe down! It was so delicious, warm and cozy and packed a punch…I have to repliacte it! After that we had lunch in the barrel room…man does the sweet scent of hundreds of aging barrels of bourbon and whiskey smell delicious!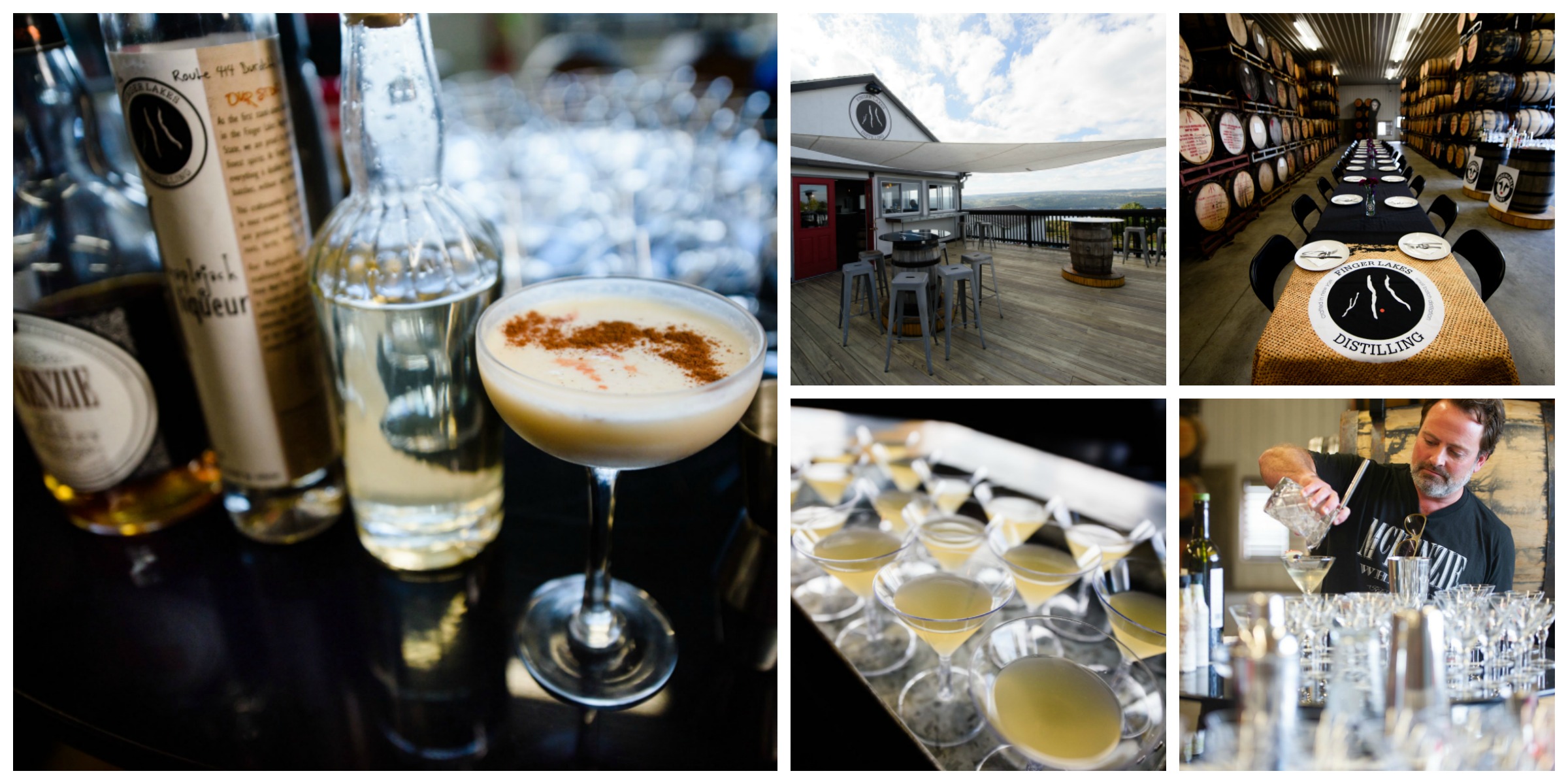 Next, we headed to the Muranda Cheese Company which is located on a working farm. I have to say is the most stunning location for an event. The barn is simple yet elegant, the deck overlooks fields with the cows, who make the milk that makes Muranda cheese so delicious. We visited with calves, heifers, and cows then we headed down under the xx-year-old barn to take a peek at the aging rooms, where Muranda's incredible cheeses sit quietly as they age to perfection.
Claire from A Cheesemongers Daughter (and yes, her father IS a cheesemonger) gave us a demonstration on how to build a gorgeous and tasty Fall cheeseboard. THEN the bloggers competed in teams of two in a DIY Cheeseboard competition. So fun!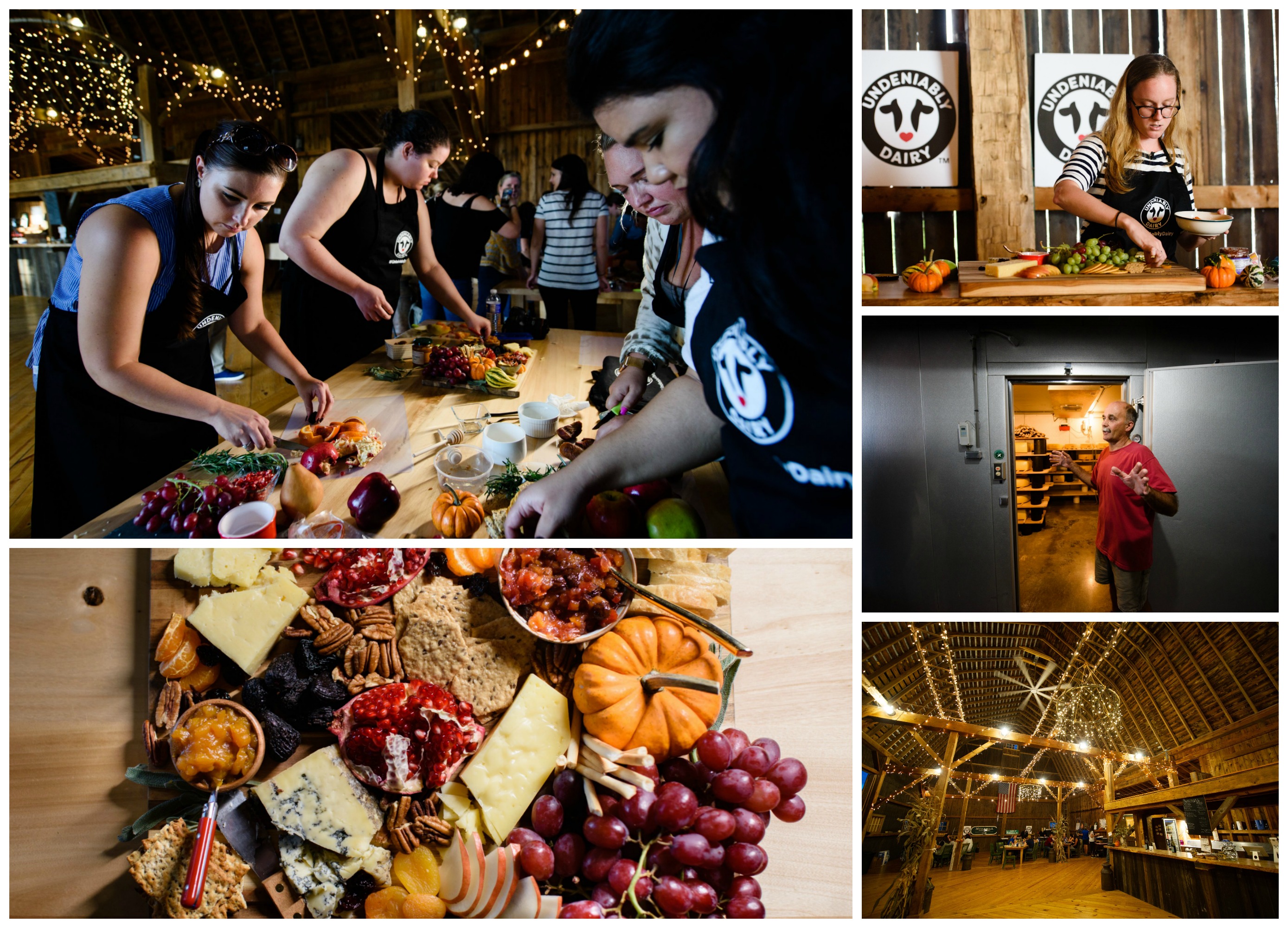 The day came to a close with wine, cheese and BBQ dinner complete with live music. It was a perfect close to a busy and informative day!
The following morning we all headed to New York Kitchen – A stunning facility with a view of Lake Canandaigua. First, we all made Mozzarella, which was just so fun (and a good arm workout…that's me in the top left). Even Jason Smith (winner of The Next Food Network Star and Holiday Baking Championship) got in on the action with his Mozzarella making partner Abby Copenhhhhh (whose dairy farm we visited the day before) top right.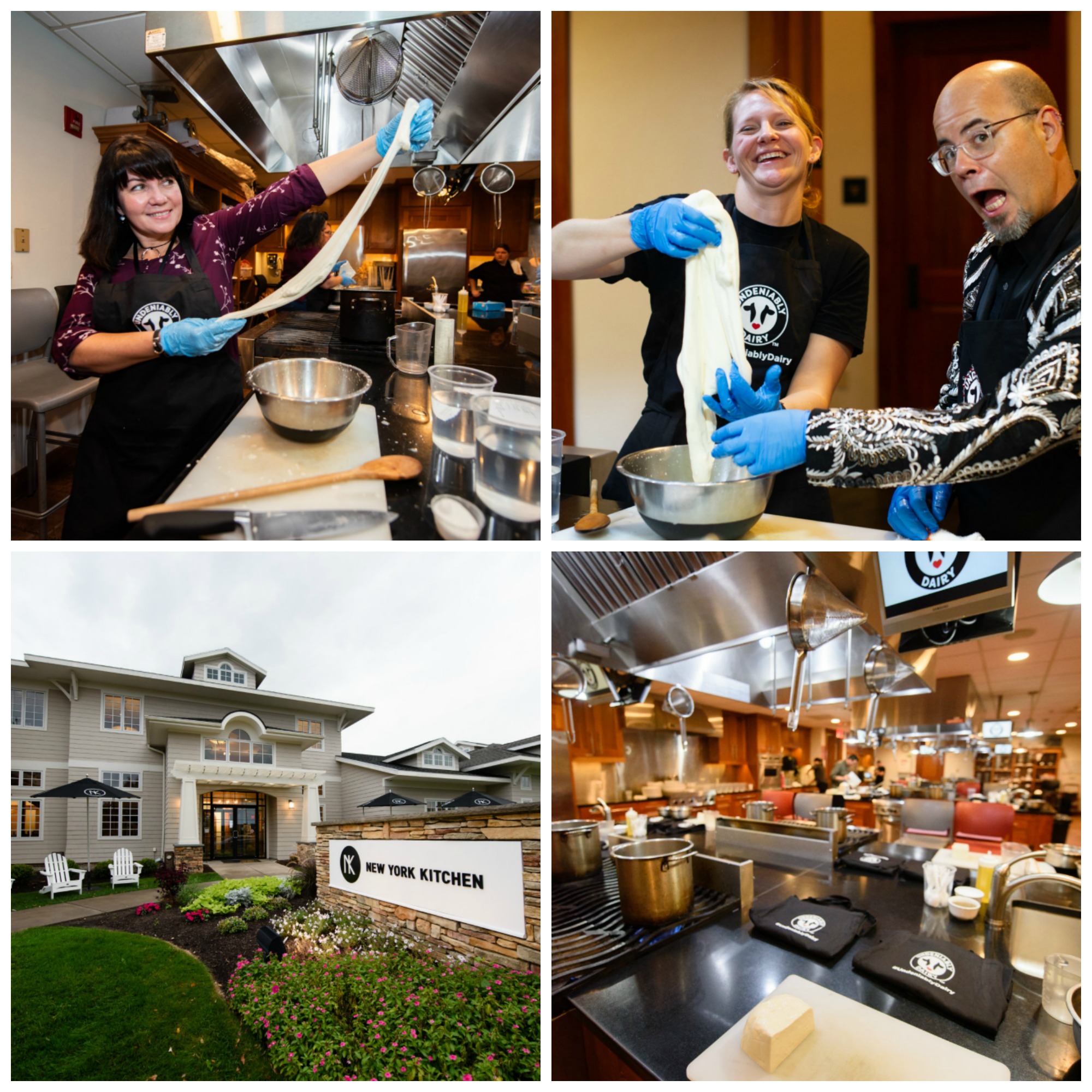 Last but not least the food blogger dairy cook of was underway. Bloggers were assigned either milk/cream, cheese or yogurt as a secret ingredient. I did a few Facebook Lives while that was going down. I was not in the competition since I was one of the 3 judges…along with Jason Smith and Abbey Copenhaver however I did make my "famous" Chocolate Moonshine so everyone could have a taste.
The winners of the 3 categories were Brandy from Nutmeg Nanny (cheese), Shadi from Unicorns in the Kitchen (yogurt) and Amanda from A Cookie Named Desire (milk/cream). It's always fun to judge cooking contests and filling!!
It was a great trip…we saw where milk comes from and all the work, passion and science behind it…we watched cows being milked, enjoyed the many ways milk is then used in every form of dairy imaginable and I am sure everyone would agree…left with even more respect for what dairy farmers do to allow us to enjoy the foods we do.
Hope you enjoyed reading about our adventure in all things Dairy in NY!! And let me just say, the Finger Lakes Area is beautiful! Go if you can and hit alllll the winery trails, cheese trails, distilleries, restaurants, and bars! It's fun as a couple or with friends and in the summer…great for families since you can "play" in and on the lakes!

Hope you enjoy the Mozzarella Zucchini Balls too! I know this post was so long…I almost forgot about them, lol! I tested these out both with shredded zucchini and spiralized zucchini (zoodles) that I then minced. I prefer the second way. Just a better overall texture in my opinion.
Enjoy!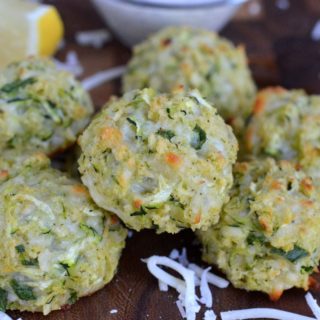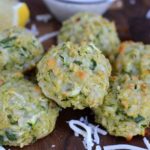 Print Recipe
Mozzarella Zucchini Balls
Change up your spinach ball game with these cheesy Mozzarella Zucchini Balls
Ingredients
2

cups

minced or shredded zucchini

patted dry

1

cup

plain Panko

1

egg + 1 egg yolk

1

heaping cup shredded Mozzarella

sometimes I do 1 1/2 cups

1/3

cup

thin snipped or chopped scallions or 2 TBS minced shallot

2

tsp

garlic paste can substitute 1 tsp garlic powder

Black pepper and salt

Optional: Couple shakes red pepper for a little heat
Instructions
Shred or mince your zucchini (you can leave skins on, just be sure to wash and dry them first). 1 large zucchini should do the trick. I have made these both with shredded zucchini and minced zucchini...Spiralizing a zucchini is SO easy, that's what I do then I chop it to a mince. I like this way better vs shredding,

Place minced or shredded zucchini in a colander with a paper town folded under it, toss zucchini with some salt and allow it to sit for a bit to begin to drain. After a bit, press down on zucchini firmly to blot it as dry as you can. Tossing it around to ensure you get to it all.

Preheat oven to 375 degrees and line a baking sheet with parchment paper.

Place zucchini in a mixing bowl, add in Panko, cheese, eggs, scallions (or shallot) garlic paste (or powder) a sprinkle of salt and black pepper (if using red pepper add that as well). Toss until combined.

Form mixture into balls by grabbing small amounts with your hands (or a small cookie scoop and forming them into balls. You will need to firmly shape them into balls. Place on parchment lined baking sheet 1 inch apart.

Bake for 15-20 minutes. Balls should look golden and crisp.

Serve Mozzarella Zucchini Balls on their own or with Lemon Aioli for dipping.

Lemon Aioli 1/4 cup sour cream, 1/4 cup mayo, 1 tsp lemon zest 2 tsp fresh lemon juice. 1 TBS minced chives (if you have parsley on-hand, mince 1 TBS...if not that's fine), 1 tsp garlic paste, salt & pepper. Mix everything together in a small bowl and chill until serving.