Pumpkin Muffins with an Oat Crumb Topping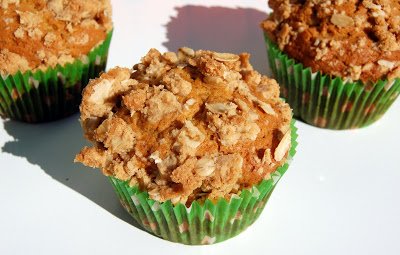 You know fall is here in my neck of the when the orange and black Sweetzle cookie boxes start taking over the end caps in the grocery store.
Growing up in Philadelphia, where these cookies had been made originally back in 1910, just looking at the box makes me think of good times.
These cookies are billed as "Philadelphia Original Ginger Snaps".
(Happy to see they have not gone the route of HFCS or partially hydrogenated oils) These days they are made just outside of Philly. My husband is particularly addicted to these crunchy cookies, usually disappearing with a full box, resurfacing later with an empty one. We have gone through 2 full boxes so far and Fall just started lol! Due to his slight obsession, I wondered what a pumpkin cookie would taste like cutting down on flour and putting in some ground Sweetzles cookies.
These started out as Pumpkin cookies, I only baked 2. They were very cake-like, but my goodness did they have a good taste.
Once I popped the first cake-like cookie in my mouth I decided to use the rest of the batter for muffins and see what happened. The batter did in fact make 12 muffins.
I really enjoyed the muffins, my 8 year old son - I kid you not - ate 5 in 2 days. He have my husband some serious competition!!
You can make these with a topping like I did or just make them plain. You could throw a nice whipped cream cheese frosting on them, decorate for fall and call them cupcakes. You can also make them with a sweeter topping more resembling a crumble if you really want something, sweet, sweet, sweet!
Now about those pumpkin cookies...back to the baking table for me as the wonderful taste of those 2 cookies keep haunting me.
Pumpkin Muffins with Oat Crumb Topping
½ c butter
¾ cup sugar
1 ¼ cups cooked pumpkin *(1 small/med pumpkin)
2 TBS brown sugar
2 eggs
1 ½ cups flour
½ cup crushed Halloween cookies I use Sweetzles (orange and black box)
1 teaspoon baking powder
½ teaspoon baking soda
¾ teaspoon cinnamon
1 teaspoon vanilla
Topping
⅓ cup flour
⅓ cup oats
2 TBS brown sugar
½ teaspoon cinnamon
4 TBS butter
To roast your pumpkin cut your pumpkin in half...right down the middle...side to side of "the belly" area as my daughter calls it, so the top is intact and the bottom is intact. Place face down on a parchment or foil lined baking sheet and bake at 350 degrees for about 35-40 minutes (it depends on the size of pumpkin used).
Check it, if it is all mushy they you are good to go...if not in it goes for another 15 minutes. Keep roasting until perfect. Once pulled from the over, just let it sit as is for 30 minutes to cool, then scoop out the seeds (reserve for another use, and scrape all that beautiful pumpkin out leaving 2 "bowls" of pumpkin skin...which we have let dry, then filled with decorations for fall/Halloween. Wonder if many, many years ago these were used as bowls??
Mash your pumpkin with a potato masher and place in a plastic bag until ready to use..keeps in the fridge for a few days or you can freeze it.
Scoop out 1 ½ cups of pumpkin for this recipe and add ti it 2 TBS of brown sugar.
Beat butter and sugar until creamy. Add in pumpkin mixture and eggs and beat until incorporated. In a food processor, blend about 12 cookies until smooth crumbs, set aside. In a medium bowl add flour, baking powder, baking soda, cinnamon and cookie crumbs, whisk until combined. Add dry ingredients to your batter and blend until combined.
Fill your muffin tin - either using cupcake liners or greasing your pan well.
In a small bowl combine topping ingredients, cut with a pastry blender or large fork or your fingers until crumble, sprinkle over muffins.
Bake at 350 degrees for 20-25 minutes or until tester inserted comes out clean.
Note - every once in a while you may get a pumpkin that is tasteless or just to watery...I always buy a few just in case. I roast them and freeze what I do not use for future recipes.
AND to me slicing a pumpkin is like taking your life in your hands....it's hard work...If you have a tip for me, I would LOVE to have it...I have even tried microwaving it a bit (cringing in anticipation of an explosion) but it has not helped. I swear, I just don't know how my chefs knife stays in one piece with me lifting (knife inserted in pumpkin) the whole shebang up and slamming it into the counter over and over again! BUT it IS so worth it!
Enjoy!!
Colleen