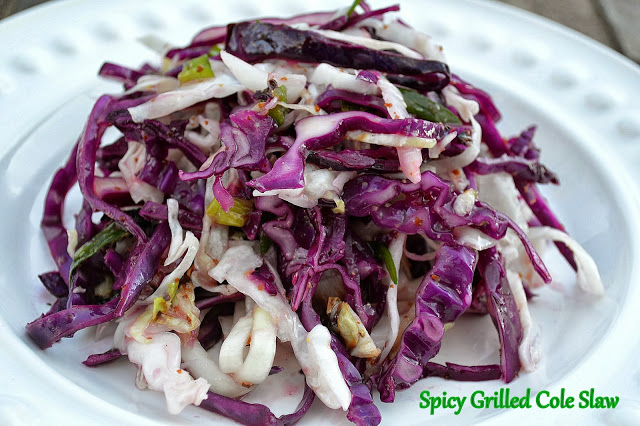 I have been saying all along that I just didn't want this summer to end, but we all know that it did. Turns out that, its ok, I guess I forgot the beauty of a picture perfect fall day and hey, NOT having to vacuum the pool isn't a bad thing!  Today is another of those incredibly beautiful fall days - it's gorgeous out!  Lucky me, I had a chance to meet a fellow food blogger friend, Mary Kay, for lunch in beautiful New Hope, PA this afternoon. We toasted ourselves on our recent recipe win with what turned out to be a better bottle of wine than we expected...but that is another story.  Talk about an adorable town and the perfect place to be on picture perfect days - that town (and the town of Lambertville just a short walk over the bridge on the New Jersey side) is a place you need to check out if you are ever in Bucks County, PA To meet a friend for lunch...talk about maximizing a perfect fall day.
Have I ever told you that I DO NOT like sauerkraut?  Blech, now way, now how do I want to eat it or smell it.  Now cole slaw...THAT my friends is a different story.  I love it!  When it comes to vegetables, most of my life I only liked them raw.  These days I have found a way to prepare most veggies in a way I enjoy them, however I don't think that will ever happen with the krout!
I picked up a two gorgeous heads of cabbage last week.  One red and one green.  They were exactly the same size, so smartly compact and bursting with beautiful color that I couldn't resist.  I thought, "oh maybe I will sautee them with some pancetta for my husband" - he loves that.  But they sat in my kitchen for a bit and I almost forgot about them until the other night when I was grilling burgers (and not just any burger...wink...stay tuned).  I thought, I'm going to throw these babies on the grill to char them up a bit...why not?
Aren't they pretty in the setting sun?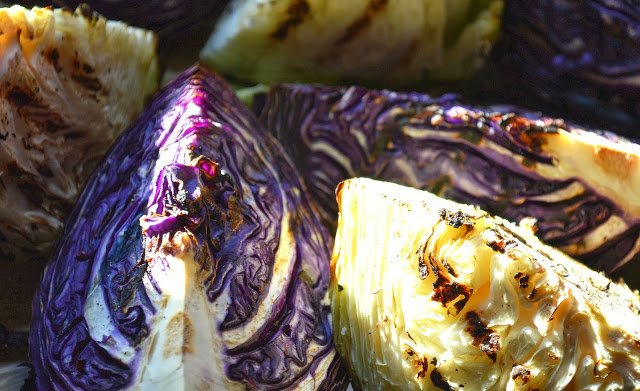 Coleslaw is one of those things that I think many of us enjoy year round - BUT grilled cole slaw...that seemed more fall/winter to me for some reason.  Maybe it was the gorgeous color of it, similar to the incredible leaf show mother nature puts on each year.  I wasn't in the mood for a mayo based slaw, so I started adding some of what I add for the base of my pulled pork and took it from there.  The result was really, really good.  Crisp, clean and crunchy.  It was even better the next day, my husband was going back to it at all hours for a couple days...a nibble here and a nibble there.  I think this will be my go-to slaw with subtle tweaks for the season and or dish I am making at the time. 🙂
Spicy Grilled Cole Slaw
1 small head of red cabbage
1 small head of green cabbage
2 bunches of scallions/green onions
2 jalapenos, minced (see notes)
½ cup apple cider vinegar
½ cup sugar
2 TBS chopped fresh parsley or tarragon
½ teaspoon red pepper flakes (or less/none if you are not into spicy)
Salt and pepper to taste
Optional: ¼ cup of your favorite nuts toasted and chopped
Cut each cabbage into quarters.  On your well greased grill, grill your cabbages for about 3-4 minutes per side...all 3 sides.  Remove from grill and cool.  Remove core sections, slice thinly for slaw and place in a large bowl.  Combine your apple cider vinegar, sugar, parsley/tarragon, red pepper, salt & pepper and shake well.  Pour over slaw and mix well.  Allow it to sit at least an hour before serving.  Toss & serve.
Colleen's Notes:  Depending on your preference for heat either mince the whole jalapeno or remove the stems and seeds first.  Leaving the inside stem and seeds in will increase the heat level...something my husband and I enjoy. Add in some poppy seeds or matchstick slices of apples to transform this coleslaw into something else.  Perfect on a pulled pork sandwich or just by itself!  This is delicious made a day ahead!
I hope you enjoy it!  Let me know if you try it as well as how you customize it!