These Slow Roasted Pork Belly Bites over Jalapeno Slaw made for a a perfect Saturday night bite for my husband & I. We dug both the flavors and textures of the dish.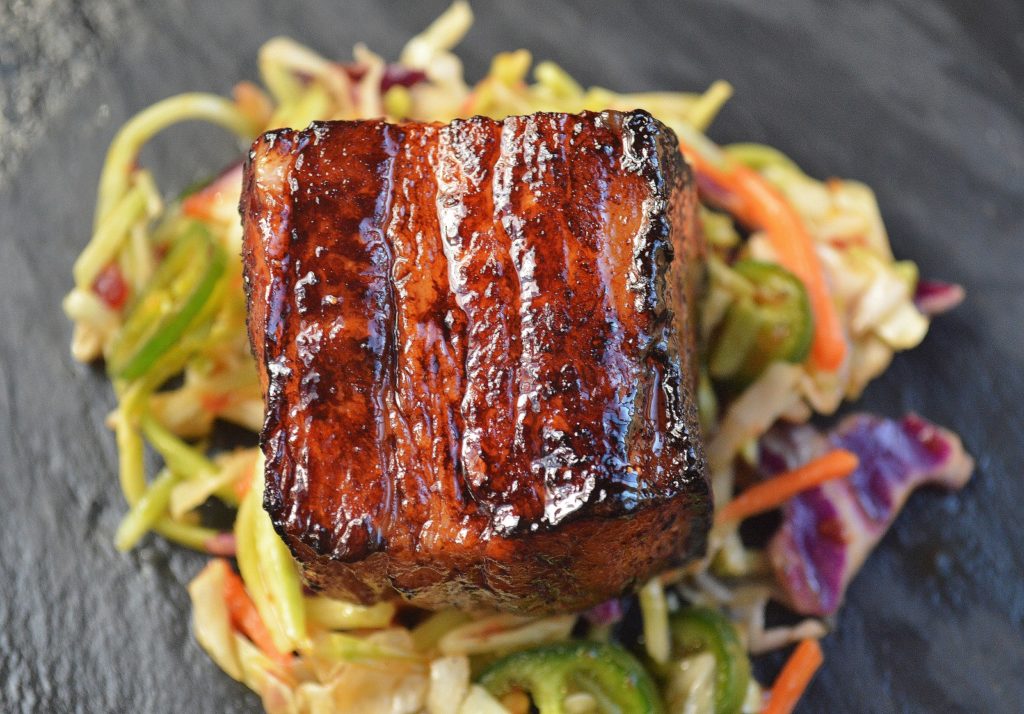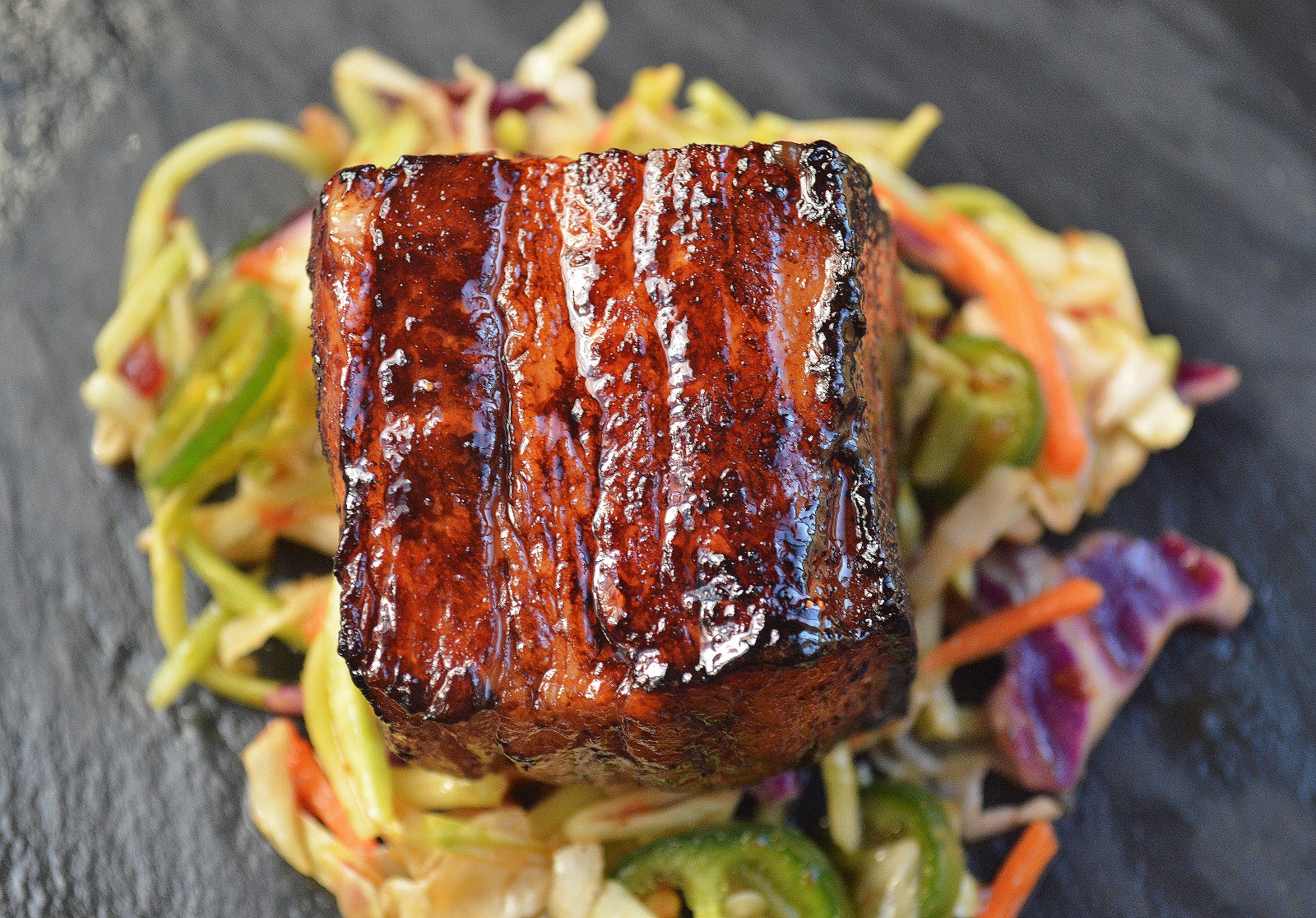 My introduction to pork belly was years ago via Top Chef.  For years I would see chefs make pork belly in various ways and then Tom Colicchio & co would usually go gah-gah over it. My mouth would literally water and I would have to stop watching for a minute and get something to eat, lol! I had to have some! If it excited Tom Colicchio…it would excite me AND pork belly is related to bacon right…so it had to be good! 
My first bite of pork belly was at a place called Marsha Browns . A popular restaurant with a New Orleans vibe in an old church in the trendy town of New Hope along the Delaware River (if you are ever near Bucks County Pennsylvania…New Hope is a place to spend a half-day!!). I still think of that bite. It was perfect! The best I've had to date.
Because I couldn't find pork belly anywhere 4 years ago, I decided to take matters in my own hands and ask my farmers market for a big hunk of double smoked bacon. It was about 5 inches wide, 9 inches long and 2 inches deep. It had to be similar right?? Maybe that is what pork belly was I thought, and around here they just don't call it that.
I threw it on the grill and waited for the magic to happen…I figured it was the same thing…NOT!!
A little less than a year ago, my farmers market began carrying "legit" pork belly and now I get to play. You have to be patient with it, it needs time to cook, time and love, and when it's right…Yummalish!!!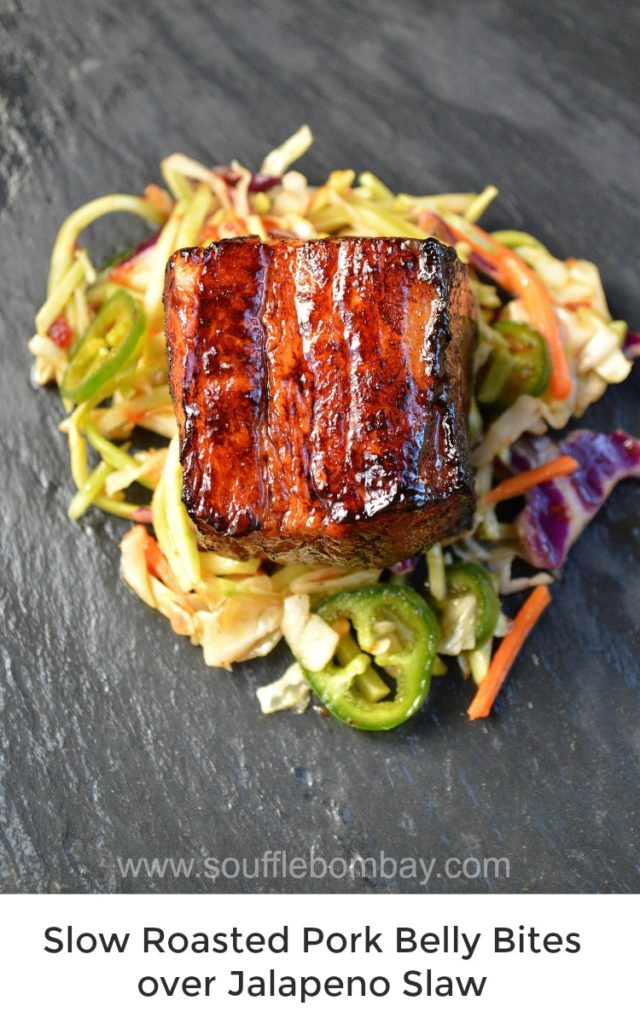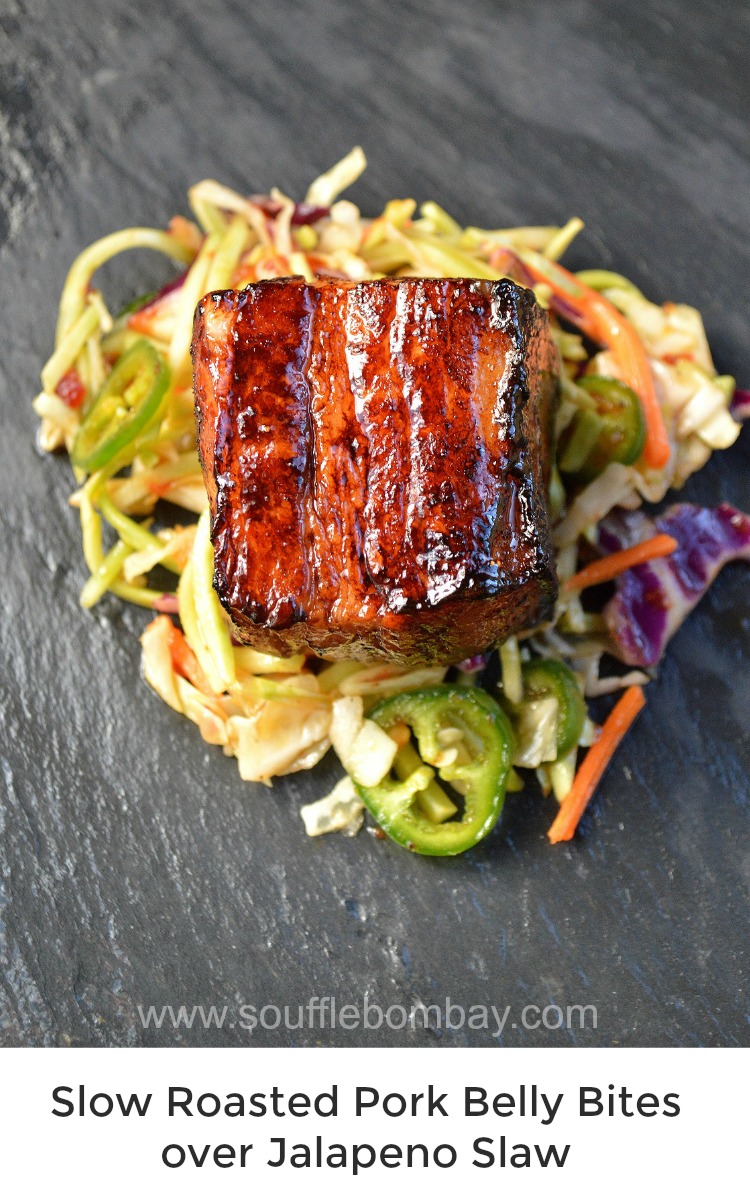 I made these Slow Roasted Pork Belly Bites over Jalapeno Slaw for a Saturday night nibble with my husband while we enjoyed cocktails out back and watched the kids swim.  I seasoned the heck out of them, marinated them, pan seared the cubes, then allowed the pork belly to slow roast in the oven for hours with just a bit of stock. Then I took them out, blotted them dry, added the reserved marinade to a pan and cooked them until bubbly, glazed and delicious.
I used bagged slaw, threw in some thinly sliced jalapenos, tossed it with an easy dressing, then simply made small plates of it and topped each one with a pork belly bite. Then we feasted!
I have also served these bites over these Spicy Spiralized Pickled Cucumbers (ready in just a few hours).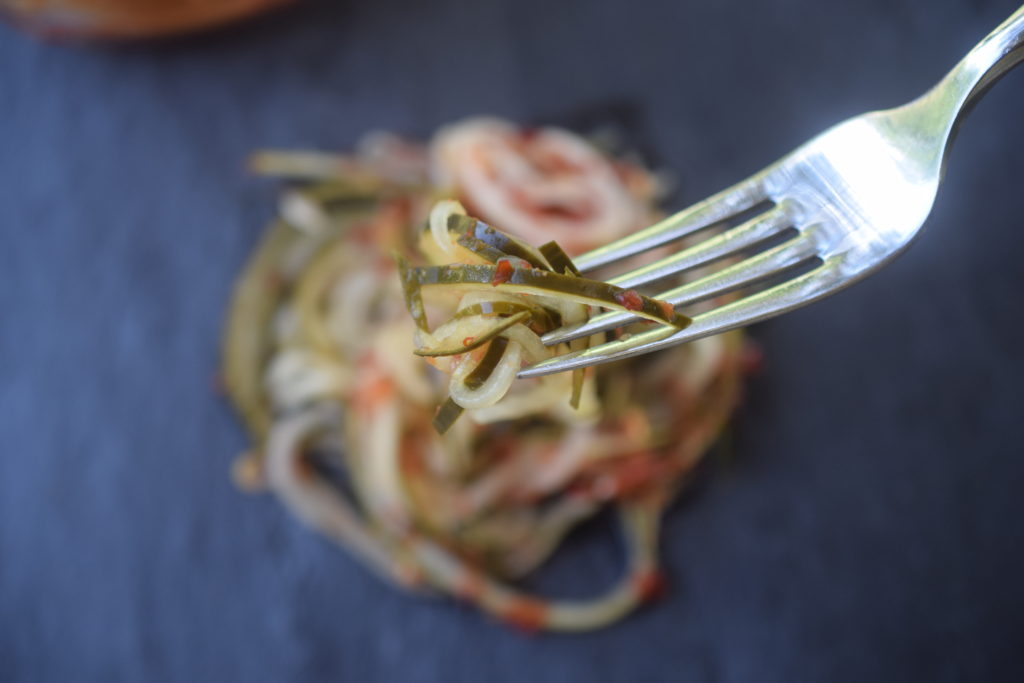 In my opinion, pork belly is something you make for the first time (or two) for you…then, once you perfect the cooking method, go ahead and make it for family and friends. I have found that depending on the cut and fat content of your belly, it will cook up very differently (sometimes you need to score it, sometimes you don't). I think that if you use the pressure cooker method (like many did on top chef due to the time requirement), it yields the finished product much quicker and almost guarantees success…However I don't own one and to be honest they scare me. All I know about a pressure cooker is the awful stews I was forced to eat out of them growing up. When I saw the pressure cooker doing its thing in my youth…I-got-outta-there! Blech!! However today, I bet I would love the stew…Oh the irony of life!
What I am trying to say is, almost every recipe I have on Souffle Bombay, I stand 100% behind and know you will make it and kill it! This one takes a little bit of practice. I want you to know my feelings on this, nothing worse than being excited for a dish you are making and then yuckko! Believe me I have been there a few times…Lets not discuss my Short Rib fail….
If you have a proven technique for Pork Belly, I would LOVE to hear about it!! 

Slow Roasted Pork Belly Bites over Jalapeno Slaw
Ingredients
1½ pounds of fresh pork belly, cut into 2 inch cubes
Salt & pepper
Brown sugar
Grapeseed oil
3 TBS honey
3 TBS soy sauce
1½ TBS sesame oil
1½ TBS chili with garlic sauce
2 TBS scallions
¾ cup vegetable or chicken stock
For Jalapeno Cole Slaw
1 large jalapeno, sliced thin
½ pound or more pound bagged cole slaw mix
2 TBS soy sauce
1 TBS rice wine vinegar
2 TBS sesame oil
1 TBS brown sugar
1 tsp chili with garlic sauce
Instructions
Pat your pork belly dry. (if your belly has really thick skin, you may want to score the top first) Season with salt, pepper and just a sprinkle of brown sugar on all sides. Let it sit for 10 minutes.
Add to marinade and allow it to sit for 15 minutes.
remove from marinade, reserve excess marinade (place in refrigerator) and preheat your oven to 325 degrees F.
Heat a pan, add in just a bit of oil and sear until a nice crust forms on each side. Yes it will smoke a bit, just keep going, the taste is worth the smoke.
Once you have a beautiful crust on all sides, place belly in a dish with just a covering of stock and roast, tented in foil for 2-3 hours or until done to your liking. Check on it every 30 minutes and add just a bit more stock if necessary to keep pork from burning the dish.
Remove from oven, place pork belly bites in a pan, cover with reserved marinade and simmer until the mixture is bubbly and the belly is coated with the sauce.
For Jalapeno Cole Slaw
Combine dressing ingredients in a mason jar and shake vigorously until emulsified. Taste and adjust for sweetness and heat) Just before serving, toss coleslaw & jalapenos with the dressing. let sit for 5 minutes. Plate, top with pork belly & serve.