Whether you celebrate Easter, Spring or just a sunny day in general, we hope your day is filled with good times, good friends, good food and memories in the making!
Last year I did this crazy-fun
Giant Deviled Egg
as a way to use up leftover Easter eggs or to be extra festive on Easter.Holidays often bring our creative juices when it comes to making fun treats for the kids. Just think of the surprise and delight on your little ones faces when they lay their eyes on these delicious egg-shaped creations!
4 ingredients and 15 minutes is all it will take to wow your kiddos with
these fun "eggs" this Easter!
It seems everyone 2-92 knows and loves Rice Krispie Treats! Grandparents and parents pass the recipe and method on to the next generation and no matter how many you make, there are never enough!
You can make "Rice Krispie" Treats with just about any favorite cereal. To take them to the next level, all you need is your imagination. Do you dip or Drizzle them in chocolate, color them, cut them into shapes? However you make them...they are going to disappear!
How about these fun egg shaped treats as a surprise awaiting the kiddos Easter morning? Or grab your kiddos and head to the kitchen together and whip up a batch that I am sure they will enjoy both the making and the tasting of and in the process create a lasting holiday memory or new tradition!
Easter Egg Shaped Rice Krispie Treats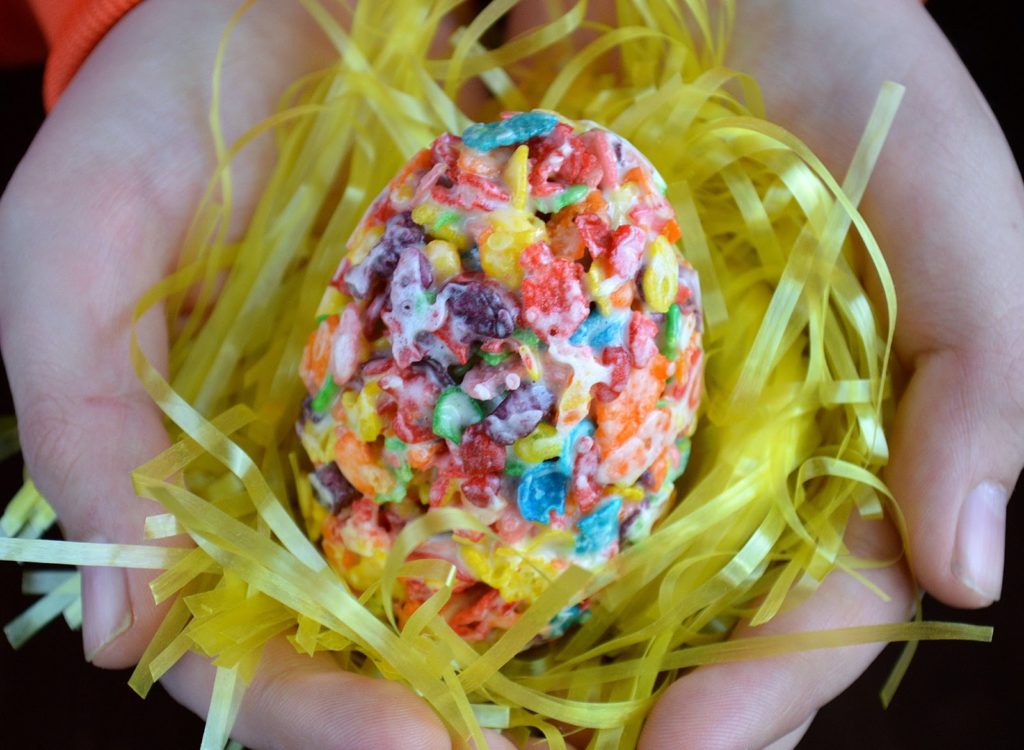 Egg Shaped Rice Krispie Treats
½ butter
10 oz marshmallows
½ teaspoon vanilla
Dash of salt
Special Equipment: Plastic Easter eggs
5 cups Fruity Pebbles or your preferred cereal
Wash your plastic eggs in warm soapy water, dry fully. Spray the eggs with a light coating of baking spray and set aside.
In a large pot, melt your butter over medium heat, add in the marshmallows and stir continuously until marshmallows have melted, remove from heat, stir in the vanilla, salt and cereal and stir until combined and marshmallow mixture is evenly disbursed throughout the cereal.
Using a large spoon, scrape out enough cereal to fill each side of the eggs. You want to pack it in yet still allow the eggs to close. Once all eggs are full, place them in your refrigerator (or other cool place) and allow them to set. Once set, remove them from the eggs and enjoy.
Colleen's Notes: The treats will usually release easily with just a bit of a wiggle. If you run into trouble, gently run a butter knife around the perimeter of the side the egg may be sticking to.
Smaller cereal pieces work best. This recipe will fill 9 standard plastic Easter eggs, however you can also use the smaller versions, which are great for snacking or tucking into the kiddos lunchbox.
Enjoy!!