If you like pulled pork and you enjoy sweet potatoes then making Pulled Pork Stuffed Sweet Potatoes will make you do the happy food dance! The two go so well together!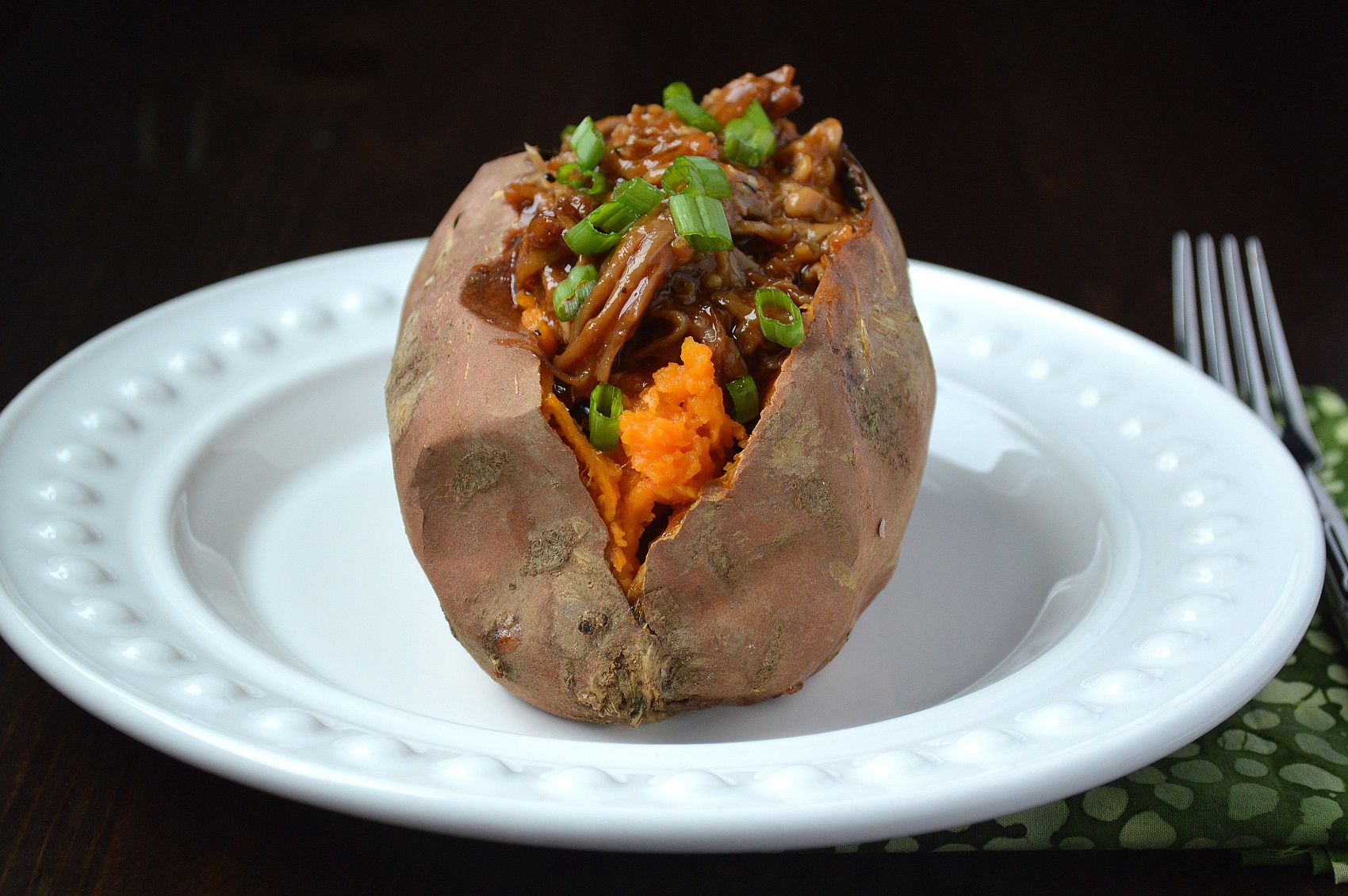 A perfectly cooked sweet potato filled to the brim with flavorful & moist pulled pork is a natural and winning combination in my book! Great protein, plus good nutrients from the sweet potato and it's naturally gluten free! What's not to love?
I am crazy for comfort food!
To me the very best part of fall comes down to three things:
Gorgeous Fall colors. Living in Pennsylvania, fall represents quite the show!
Slippers. Sliding my feet into a pair of slippers as much as I can once the temperature drops is nothing short of glorious! If they are brand new, well than that right there is one of life's perfect moments! #SlipperLover
Comfort Food. They don't call it comfort food for no reason! Whether it reminds you of the dishes of your youth, your grand-moms kitchen or new favorites you have discovered, good comfort food is like wrapping yourself in the coziest blanket.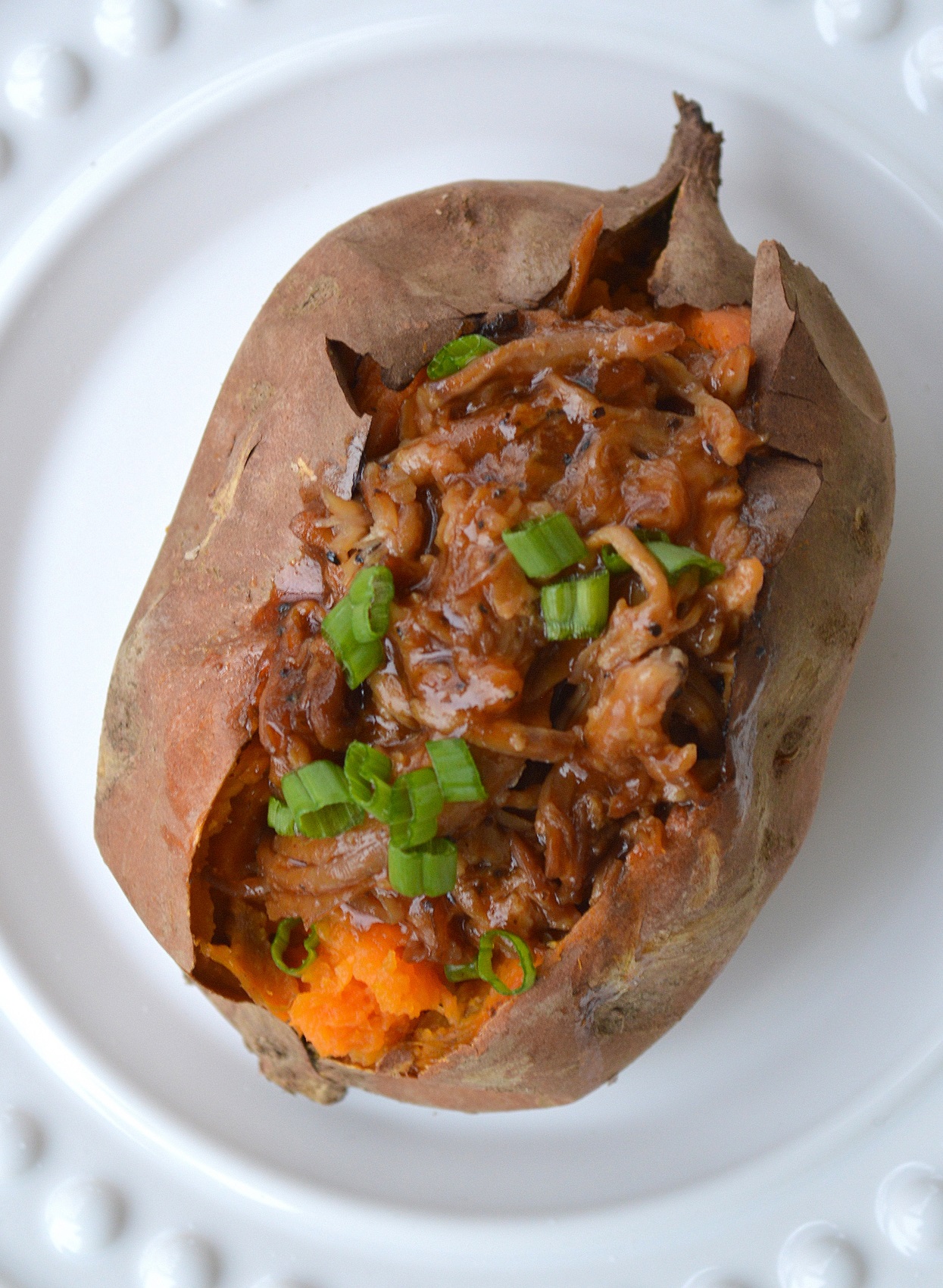 While I am always sad to see Summer go, I eagerly anticipate the temperature dipping and a chill creeping in the air marking the arrival of Fall just so I can start making our favorite soups and comfort foods! Everyone loves both the making and the eating of soup in our house, the hands down family favorite is my Easy Chicken Pho, My favorite soup is Sweet Potato Bisque and my son's is Chicken Pot Pie Soup, my daughter loves to both make and eat my Spinach & Tomato Tortellini Soup  (loaded with flavors) and my husband?? He...eats it all!
My family goes crazy for the first Jalapeno & Scallion Biscuit Topped Chicken Pot Pie of the season. Typically we eat every bit and within a week I make another one! From my mom's macaroni and cheese to chili to Sundays spent with the sounds of football echoing through the house and meats slowly cooking in the oven.
On chilly weekends I like to make Pulled Pork or a spicy Brisket  (while slow roasting it keeps the house cozy and smelling delicious too...bonus), then enjoy it that night and the next night enjoy Pulled Pork Stuffed Sweet Potatoes Pulled Pork or Brisket Topped Pizza or sandwiches. It gives me an easy weeknight dinner as I rush around with sports & homework.
You just have to love a two-fer meal!
Use store-bought pulled pork for these Pulled Pork Stuffed Sweet Potatoes or roast it yourself. If you do make my recipe (which is one of the first recipes I posted on Souffle Bombay), you don't have to make the sauce, you can simply use the natural juices from the pork after pulling it. Your call. (The sauce IS good however...just sayin').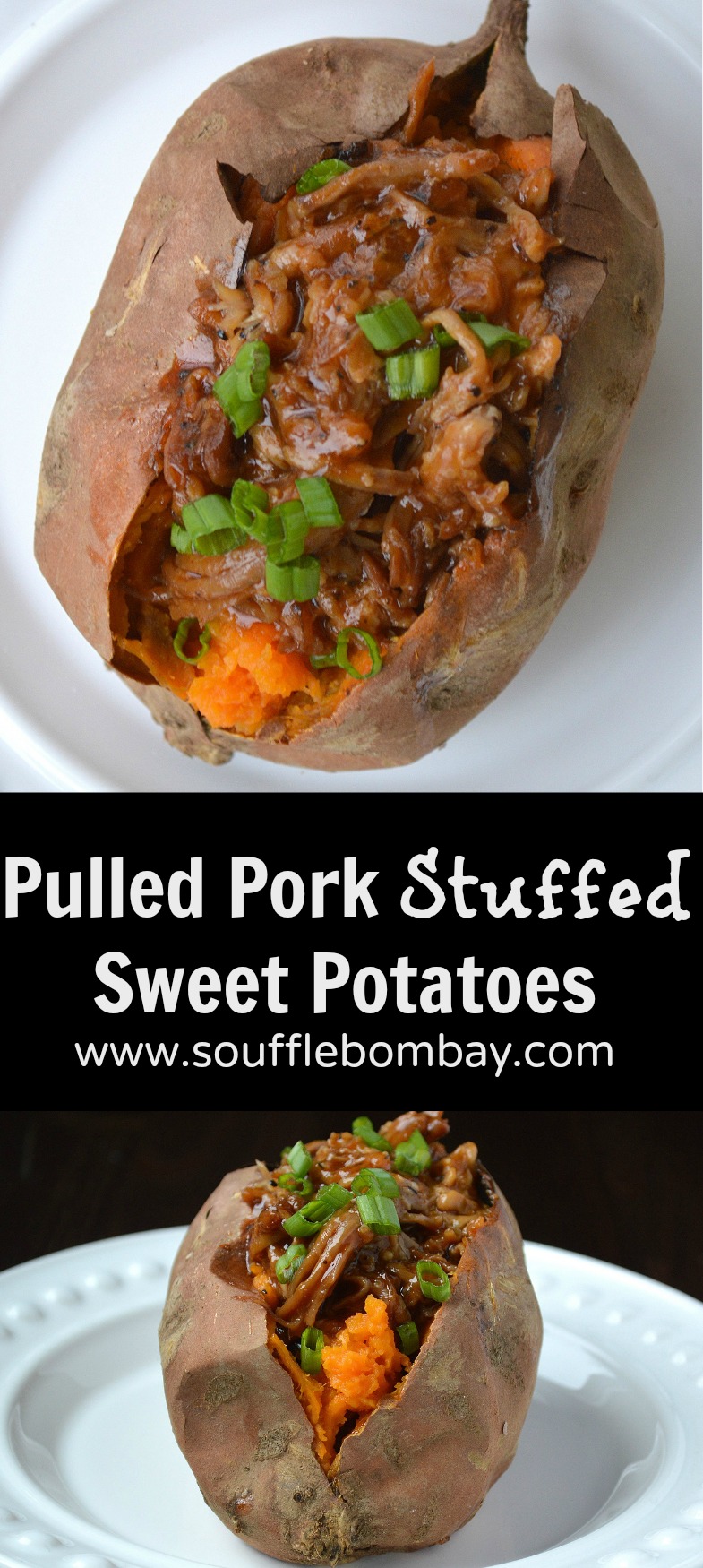 What are your favorite comfort foods? I am always looking for some new ones to try.
Check out my Comfort Foods Board on Pinterest...You will find some amazing recipes and inspiration there!!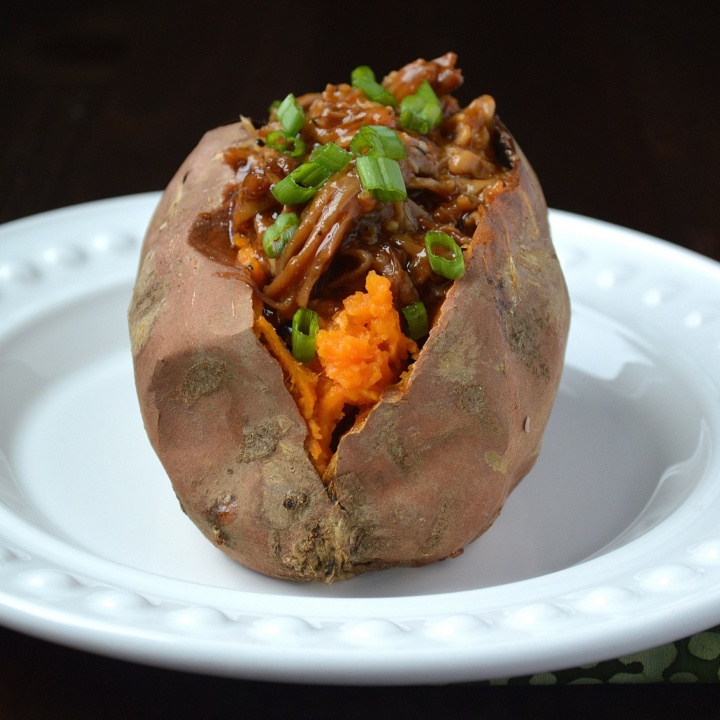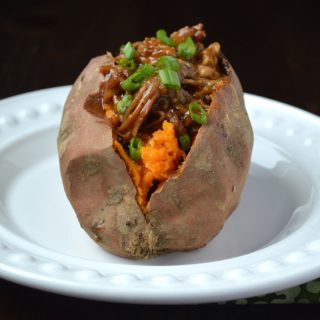 Pulled Pork Stuffed Sweet Potatoes
Ingredients
Sweet Potatoes

Homemade or store-bought Pulled Pork
Instructions
Line your lower oven rack with a strip of aluminum foil (to catch any drips from the potatoes).

Preheat oven to 400 degrees.

Clean your potatoes, prick them each a few times with a fork.

Once oven is heated, place them directly on your oven rack.

Bake for 50-60 minutes or until done. Cooking time will vary based by size of potatoes.

Once removed from the oven, slice them open across the top, drag a fork across the inside of the potoes to loosen them up, and stuff with store-bought or homemade pulled pork.
Follow me on Tik Tok for 1 minute videos