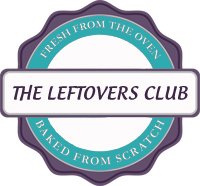 It's that time of month again – the time where a bunch of us food bloggers get a tasty treat in the mail from near and far. Why you ask…It's because of The Leftovers Club! A small group of us were talking on Twitter about someone getting a tasty treat in the mail (and how we wished it was us…that's right…I'm talkin' bout you Kelly!!) and an idea was born…Jen of Savory Simple ran with the idea and now each month those in the club, get paired with another to send a treat to. It's a win, win! You send a treat, you get a treat and you meet new people in the process! Love it!!
This month I have Marie from Texas! Marie runs the site Little Kitchie where she shares recipes. Marie is a little obsessed with biscuits – and that's not a bad thing! (We all have our food addictions right…hellooooo shrimp!) Check out her Tzatziki Biscuits – Boy do they sound good!


Marie sent me 2 stacks of her Oatmeal Chocolate Chip Cookies which were delicious! They arrived on the perfect day for me as I was about to bake to refill our cookie jar, instead, I opened a package ate a couple and plopped them right in! Thanks Marie!!
I decided to send her one of our favorite party snacks. Something I have been meaning to post for a couple of years but never got around to…we devour these babies and I forget! My Sweet & Spicy Pecans.
I think the real reason I have never posted this is because I make them a bit different every time and I never write down what I am doing or I do scratch it down somewhere and later when I think of it I can never find it. But this time, I made sure not to lose track of what I did.
These are phenomenal by themselves….put them in a few small bowls at a party, scatter them around and watch them disappear! The men seem to find them first and they leave a trail to them like an ant does so that their buddies will find it to. These make a great addition to salads and I often put them out as part of a salad bar. And of course these make great gifts to teachers, neighbors, friends and family – Especially around the holidays! I have a habit of making these and packaging them up in a cute Longaberger mug or small dish and wallah – a great gift! They get something for now and something for later 🙂
I hope you enjoy these family favorites!!
Check out what else was zooming around the USA from kitchen to kitchen this month!
Sweet & Spicy Pecans


2 cups pecans
1 cup sugar
1/3 cup water
1/2 tsp Kosher salt
1/2 tsp red pepper
1/2 tsp cinnamon
1 tsp vanilla
On parchment paper, roast your pecans in a preheated oven at 300 degrees for 10 minutes.
In a medium pot over medium-high heat combine your sugar and water and stir until smooth, bring to a boil. Add in pecans and stir to coat. Add in salt, red pepper and cinnamon and continue cooking and stiffing constantly until most of the wetness at the bottom of the pot is gone, about 5 minutes. Lower heat a bit halfway through. When the pot is almost dry, remove from heat and immediately add in the vanilla and stir vigorously. Turn out the nuts onto your parchment lined baking sheet, spread them out a bit and allow to cool completely. Store in an airtight container. These will keep for about 10 days.
Notes: If you want to make a larger batch, I suggest doing it one batch at a time OR doing it in a HUGE pot. If the nuts are crowded, they just don't crisp up…they are still tasty but you miss that crunch.
Carefully taste a bit of the mixture from the pot as you are cooking the nuts…cool it down first it will be HOT. Do you get a bit of heat on your tongue at the end? Do you want more salt or cinnamon? Play with it until you get the flavor you crave. Sometimes I leave out the vanilla, sometimes I add in cardamom or other spices. In no time you will customize this to your taste.
To check out last months Leftover Club's recipes…click HERE.
Enjoy!