Apple Fritters are one of the recipes people seem to love on my website, however, I do know that many home cooks have a fear of frying. SO why not make this AMAZING Apple Fritter Quick Bread instead (or in addition to).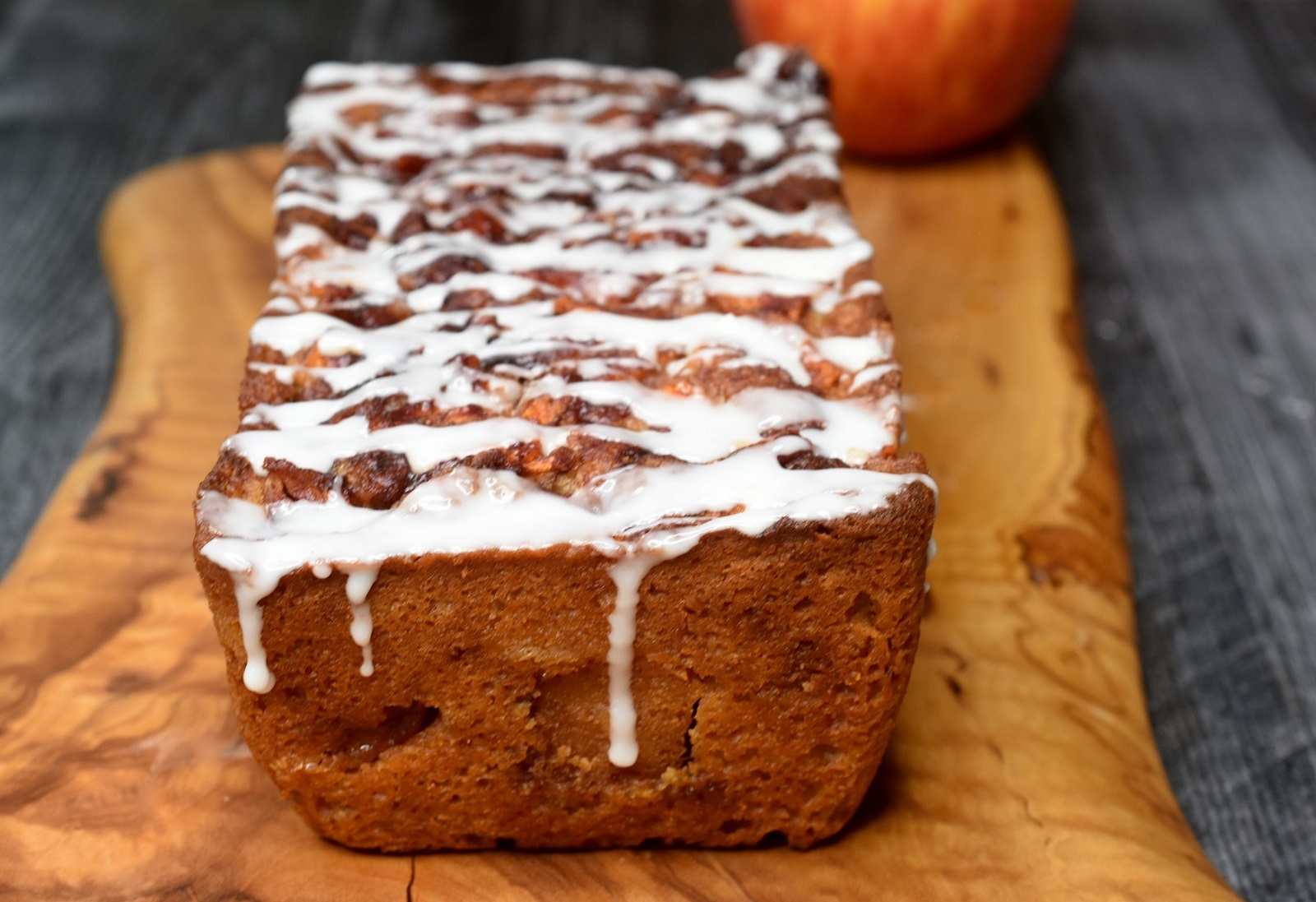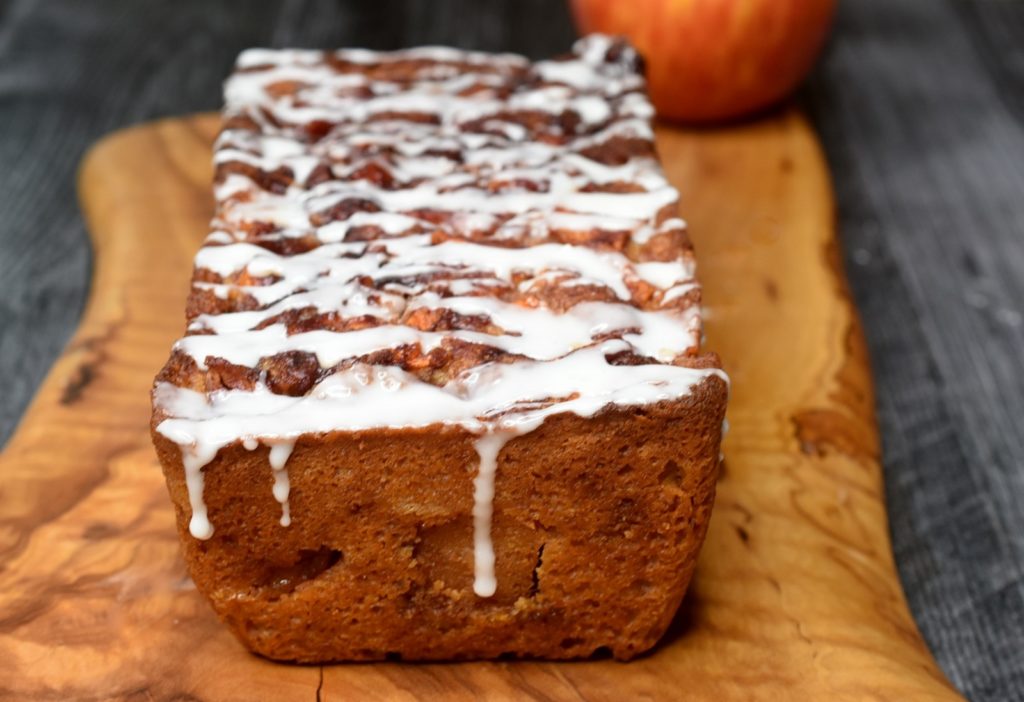 Growing up I made Jewish Apple Cake as much as I could, I just loved the flavor and texture of it as well as the crispy sweet crust that formed on top. Years ago I began trying to make a more moist version of that and called it caramel apple bread since I did what I could to caramelize the crust on top and often drizzled the loaves with actual caramel, mmm!
Success! I make this a couple of different ways however this version, in my opinion, is the best one. It's the moistest quick bread, which is something I enjoy in a fruit-filled quick bread.
When I make my Easy Apple Fritters, I have to make them when everyone is home and hungry for a sweet treat, usually for breakfast or an evening dessert, since they are best just after frying.
I think this Apple Fritter Quick Bread is a delicious marriage of the Jewish Apple Cake from my youth and the Apple Fritters I often make for my family. I do know it never lasts more than 24 hours in my house! There is just something about cooked apples, mmmm!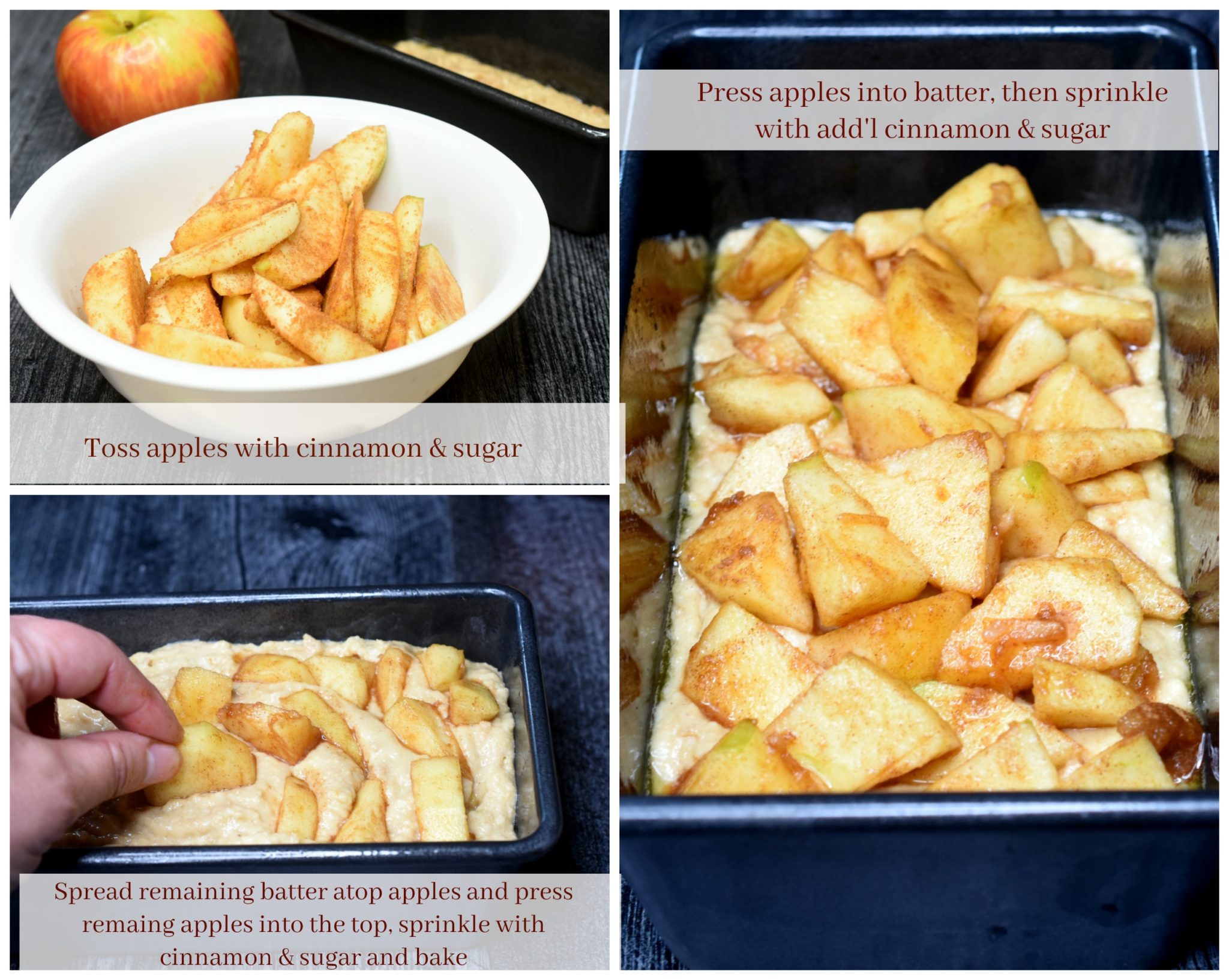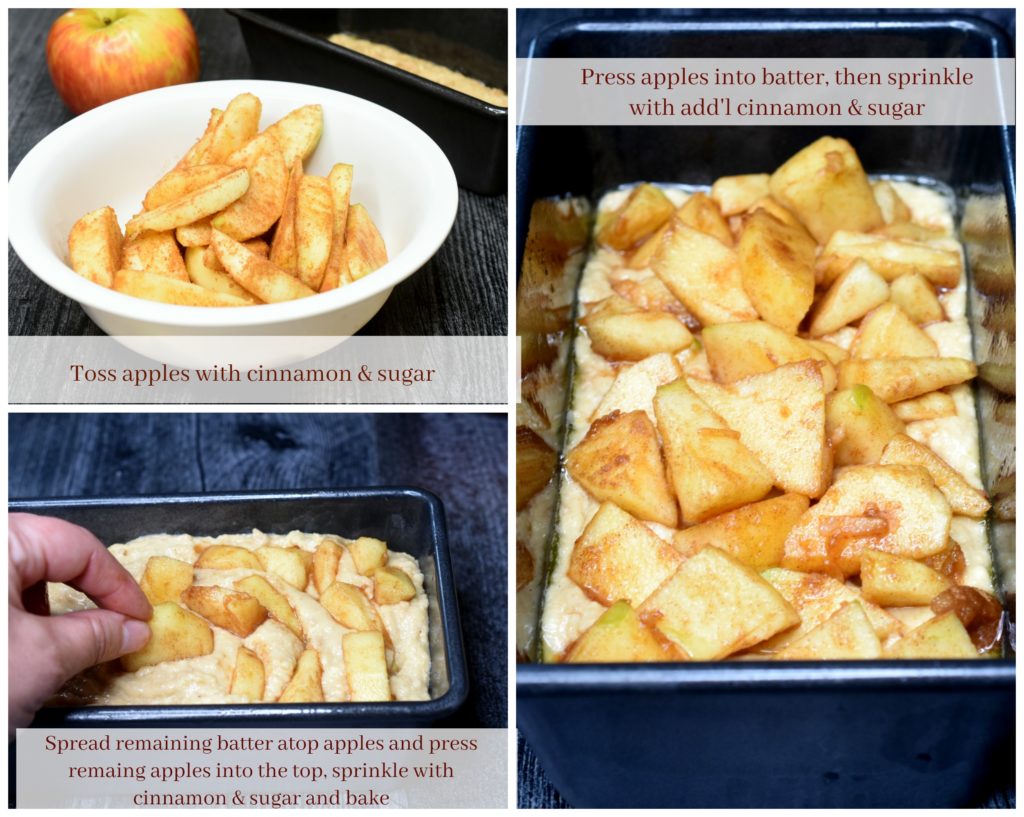 Why Make Apple Bread instead of Apple Fritters?
I say make both! Since they really are two different things. If you like cooked apples you'll enjoy both of these recipes. The Apple Fritters can be prepped in under 10 minutes, as soon as your oil is hot each batch takes just a few minutes. The Apple Fritter Bread can be made in 15 minutes or less and then it takes about an hour to bake.
The Fritters need to be enjoyed soon after cooking while the Fritter Bread ios good warm from the oven or the next day. Whichever one you choose to make I hope you become smitten!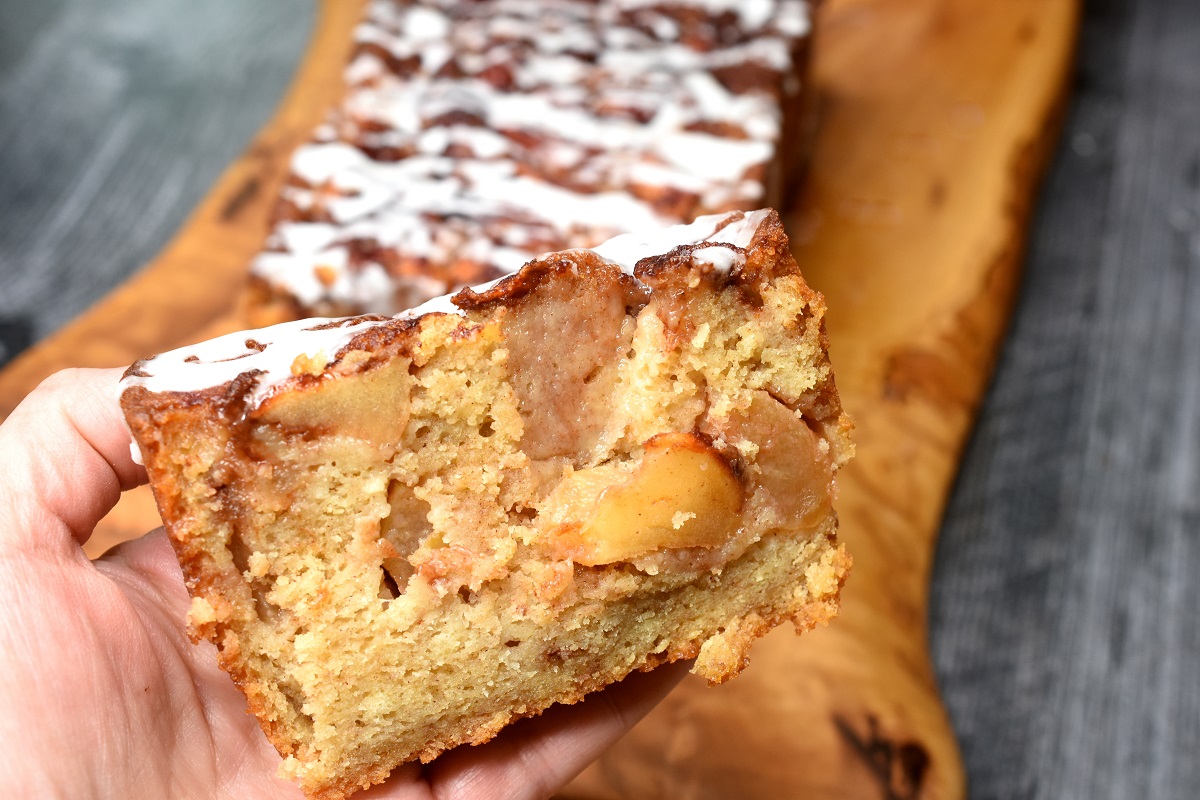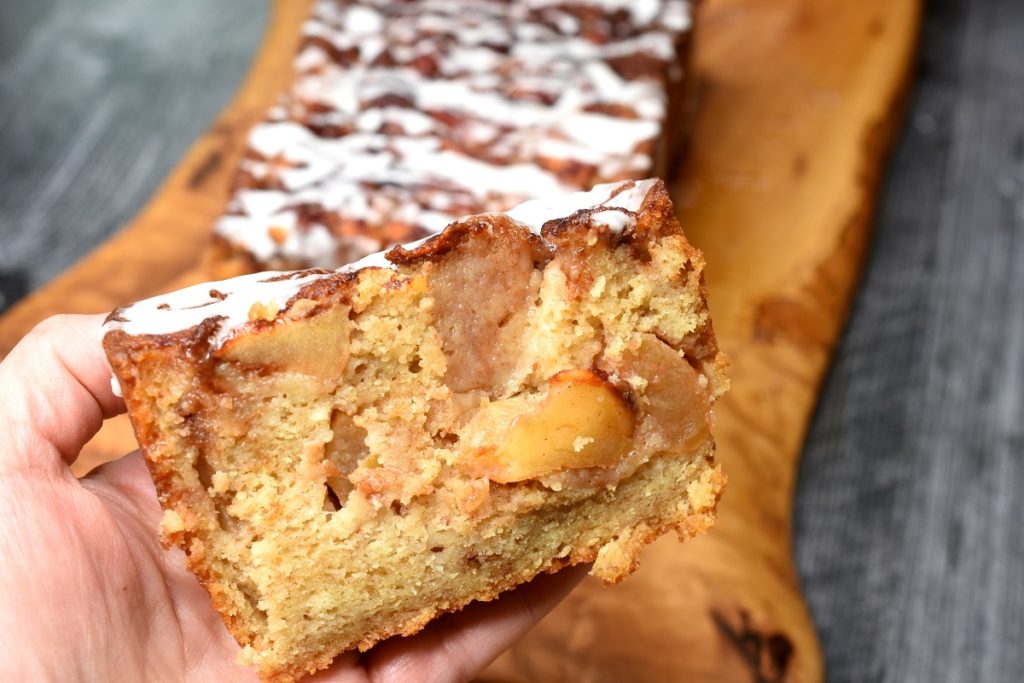 What Kind Of Apples Should I Use for Apple Quick Bread?
Personally, I don't feel it matters. You can choose your favorite apple or use a mix. I typically use granny smith and honey crisp apples.
I hope you enjoy this easy quick bread recipe. If you enjoy making quick bread or apples in general, take a look at these recipes.
This Bacon Cheese Jalapeno Quick Bread is filled with all sorts of goodness. Enjoy warm from the oven, plain or with butter. Toast it, use it for sandwiches or enjoy alongside your favorite soup or salad.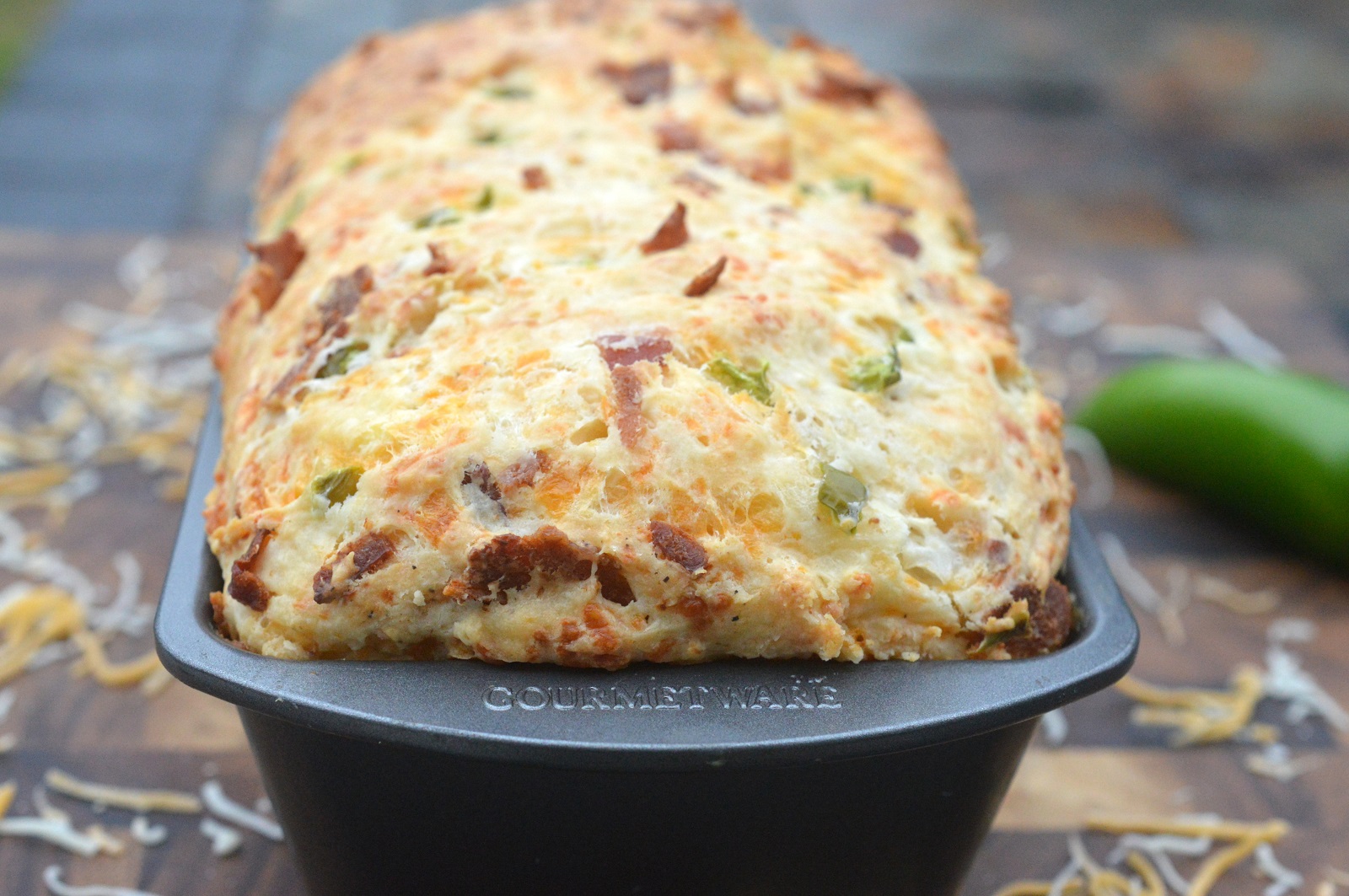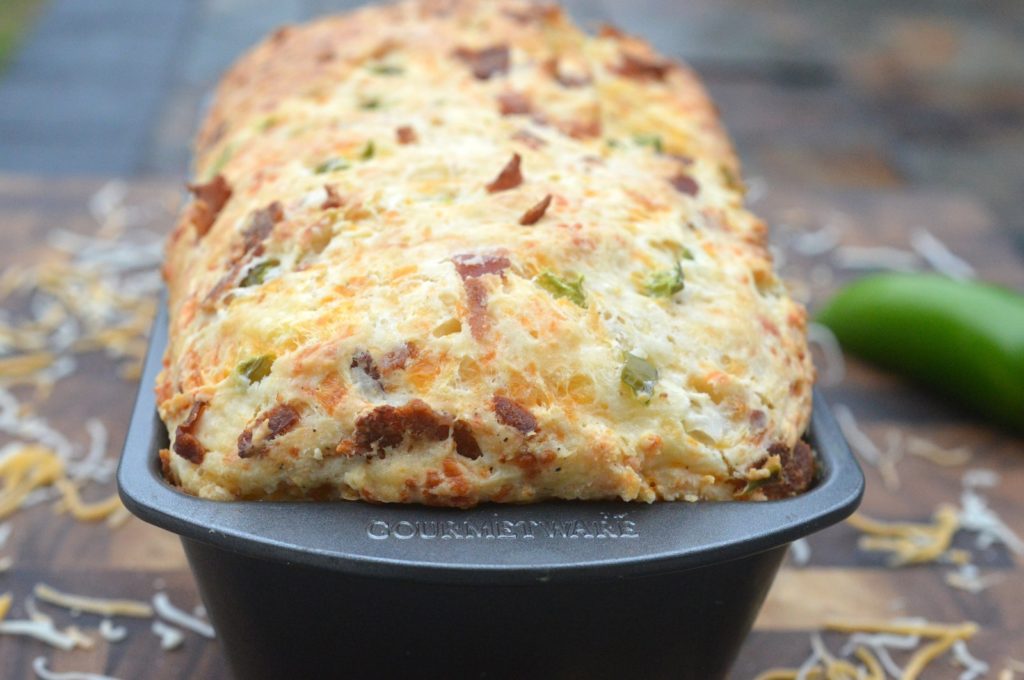 I am famous in a few circles for my Irish Soda Bread, it's sweeter than any you will find in a grocery store or bakery. It's actually more like they make it in Ireland. I've been making this all-year-round since I was a teenager. And many readers have sent me notes telling me they won contests at fairs, etc with this. Love that! This is a total keeper of a recipe!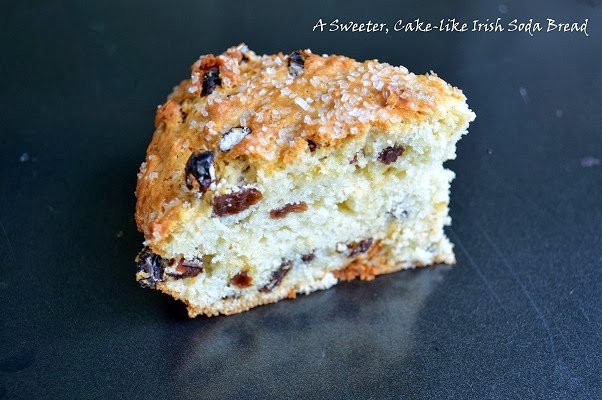 Make these irresistible Apple Fritters in 15 minutes! Your family will go crazy for them!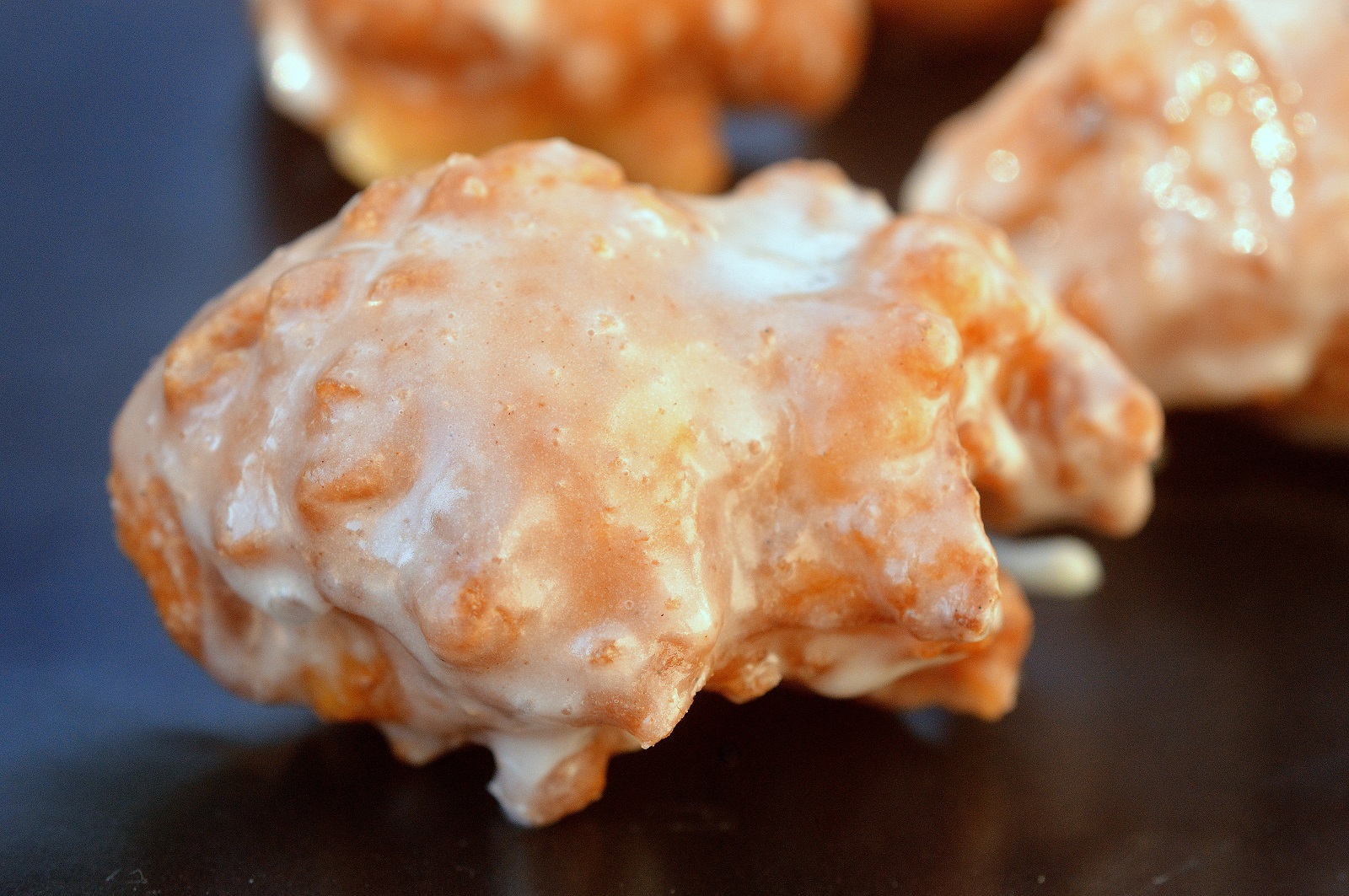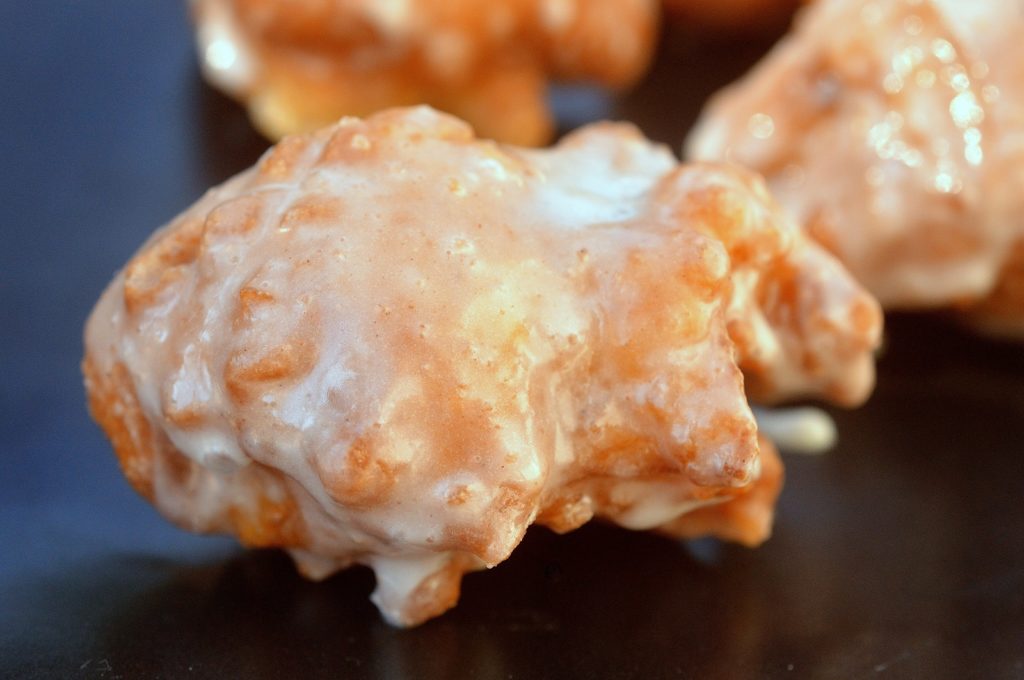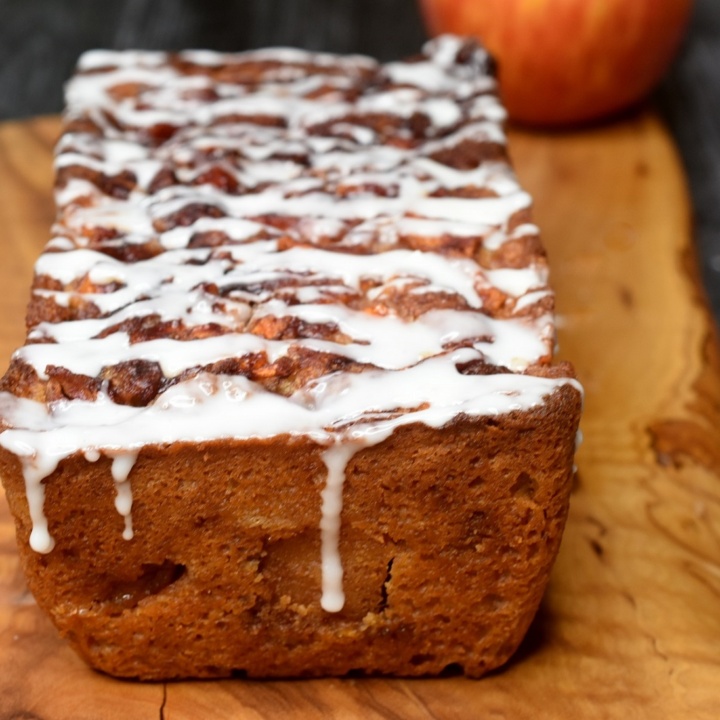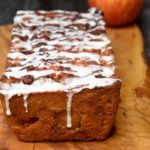 Print Recipe
Apple Fritter Quick Bread
If you have a fear of frying yet crave the taste of apple fritters, make this Apple Fritter Quick Bread instead OR if you love cooked apples as much as I do...make them both!
Ingredients
cinnamon-sugar mixture

1/2 cup brown sugar, 1 TBS white sugar and 1 TBS cinnamon (pinch of nutmeg optional)

3

large apples

about 2.5 cups. I like to use 1 granny smith and 2 honey crisp apples, however, use whichever apples you have on-hand)

1/2

cup

softened butter

1/4

cup

white sugar

3/4

cup

brown sugar

2

eggs

1/3

cup

applesauce

(optional, however it makes it moist)

1

TBS

vanilla

1/2

cup

milk

1 1/2

cups

flour

2

teaspoons

baking powder

Pinch of salt
Instructions
Preheat oven to 350 degrees and spray a loaf pan with baking/cooking spray OR line it with parchment paper (preferred method).

Make the cinnamon-sugar mixture by combining 1/2 cup brown sugar, 1 TBS white sugar and 1 TBS of cinnamon (and a pinch of nutmeg if you like) in a small bowl. Mix well and set aside.

Peel, core and cut your apples into slices. If you have an apple corer/divider that's perfect. If not use your knife and cut apples into chunks (if first, you have slices, cut those slices into 2-3 chunks each depending on the size of your apples.)

Toss your apples with 2 1/2 TBS of the cinnamon-sugar mixture.

In a mixing bowl, combine the butter, sugars, eggs, applesauce and vanilla. Using a rubber silicone spatula, mix by hand until incorporated and smooth. Or use a mixer.

Add in the milk and mix until smooth.

Add in the flour and sprinkle the baking powder and salt right overtop the flour. Fold it in and mix until smooth.

Scrape 1/2 the batter into your loaf pan, place 1/2 of your apples on top of the batter, spreading them around so they make an even layer. Sprinkle half of your cinnamon-sugar mixture over the apples.

Scrape the remaining batter into the pan evenly and then press the remaining apples partially into the batter evenly across the top. Sprinkle the remaining cinnamon-sugar mixture over top.

Bake for 55 minutes to an hour or until a toothpick inserted into the middle of the loaf comes out mostly dry.

Allow cake to cool for 10 minutes, carefully run a butter knife around the sides to ensure cake is loose. Carefully flip cake out and onto a cutting board or plate. This is a heavy cake, so be careful as you get it out. I actually like to line my loaf pan with parchment paper because this is a heavy loaf. That way you simply lift it out.

If you enjoy a sweet drizzle atop the cake, combine 2/3 cup powdered sugar and just enough milk to make a thick glaze (start with a 1 1/2 TBS and go from there). You want the glaze to be on the thicker side. You can also choose to add a pinch of cinnamon to this as well. Enjoy!
Notes
The top of the bread will become crispy and caramelized in parts from the sugar topping (which I love). If crispy is not what you are looking for, add the sugar topping halfway through the baking time and be sure to bake on the middle rack. You could also tent the pan with foil to prevent early browning and remove it with 20 minutes left to go.
Nutrition
Serving:
8
g
|
Calories:
400
kcal
|
Carbohydrates:
67
g
|
Protein:
5
g
|
Fat:
13
g
|
Saturated Fat:
8
g
|
Cholesterol:
73
mg
|
Sodium:
266
mg
|
Potassium:
181
mg
|
Fiber:
2
g
|
Sugar:
46
g
|
Vitamin A:
476
IU
|
Vitamin C:
3
mg
|
Calcium:
133
mg
|
Iron:
2
mg