Butternut Squash Soup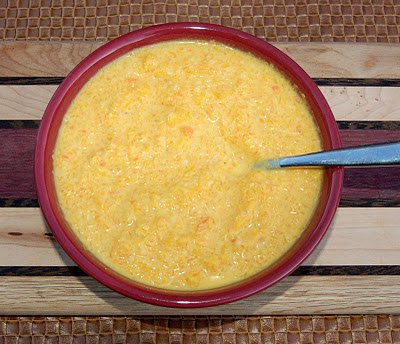 Funny how its only been a couple of years since I gave Butternut Squash a chance…little did I know what I was missing all those years!
A few weeks ago, I had soup out at a pizza place/Italian restaurant while my daughter was in dance class and was SO, SO surprised at just how much I loved it!!! That was the single best "taste" I had ever hadfrom that place.
So I figured I would try to replicate it. What I loved about that soup was the chunkiness of it almost like a Cream of Wheat thickness.
It turned out just as I wanted – and yes, I ate bowl after bowl after bowl! Yummmmmm!!!
I gave my husband a taste just before I added the cream and he said – "it's good…it tastes like vegetables"…I was like that's all it really is you big dork..Love him!!
Hope you enjoy it!
Butternut Squash Soup
5-6 pounds of butternut squash (weight of the whole 1 or 2 squash at the market)
2 TBS butter
6 TBS minced garlic
1 1/2 cups finely chopped carrots (yield after pulsed in food processor)
1 whole large Vidalia onion, peeled and quartered
4 cups vegetable or chicken broth (I used a combination of both)
1-2 TBS chicken bullion
A few dashes of Tabasco
Salt and pepper
1 Cup of heavy cream
Roast your squash whole on a lightly oiled baking sheet at 375 degrees for at least a hour, or until a knife inserted goes in easily – cooking time will depend on if you are using 1 giant squash or 2 smaller ones.
Remove the squash from the oven and allow to cool until cool enough to skin it and cut out the "meat".
While your squash is roasting, pulse your garlic and onions in your food processor until a fine dice, add in your carrots, pulse until a fine dice. In a large pot add butter and melt over medium high heat. Add in your garlic, onion, carrot mixture.
Saute for 6 minutes, stirring often. Remove from heat until you are ready to add the squash. Add the hunks of squash and mash with a potato masher – get it all nice and mashed. Add in your stock and bring to a boil, sprinkle in your bullion and lower heat (do not put a lid on -unless you want a more watery soup) and simmer for 35 minutes, stirring occasionally.
Lower heat to low, add in Tabasco, a little salt and pepper and cream. Stir well and serve.
**depending on how much of a squash yield you have, you may need to add a bit more stock or a bit less stock – just eyeball it and look for a nice thick consistency (or one you know you will enjoy)
I LOVE this with some beautiful chunks of bread thrown in (or serve in bread bowls…mmmmm!
Enjoy!!