Creamy Corn with Bacon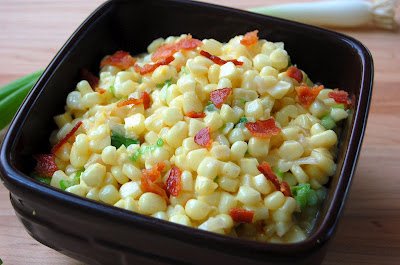 One of the best things about Summer, for me, has always been the sweet taste of corn! As a kid, one of the highlights of my Summer would be arriving at my parents friends home in Ohio for a weeks visit and literally upon arriving after a looooong drive, heading out into the cornfield to pick, boil and eat as many ears of corn as we could, they were just bursting with sweet, buttery goodness! Annually my Dad would try to top his previous record…I think his top was about 12 ears of corn…lol
I like it boiled, grilled or pan fried. I like it with just butter and salt or loaded up with interesting bits of this and that. This particular dish, I had at a party at the beginning of the Summer. My friend Molly made it and I had never had corn quite like this before…with cream. I was smitten! She was not sure of where the recipe came from, I think it must have been Southern in origin…seeing as how I never have seen corn presented this way. I am just happy it made its way into my life (so is my husband)! Thanks Molly!
How do you like your corn best?
Creamy Corn with Bacon
6-8 slices bacon
3 medium shallots, minced
5 ears of corn, cut from the cob (about 3 cups of kernels)
2/3 cup heavy cream
A couple pinches cayenne pepper (I like it spicy)
2 medium scallions, sliced thin
salt and pepper
Cook bacon in large skillet over medium-high heat until crisp, 8 to 10 minutes. Transfer bacon to plate lined with a paper towel to drain. Pour off all but 1 1/2 tablespoons fat from skillet, add shallots and cook until soft, about 2 minutes. Add corn and saute for about 5 minutes or until cooked to your liking. Add cream, cayenne pepper and scallions and cook until reduced and thickened, about 2 minutes. Toss in bacon and season with salt and pepper to taste. Serve hot (for dinner) or at room temperature (for BBQ's or picnics).
Enjoy!!