Stuffed Strawberries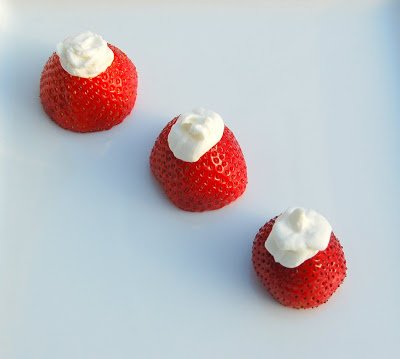 I've said it before and I will say it again (and again)…there is nothing like home made whipped cream! Who's with me on this?
For a simple but oh so special treat, next time you see some beautiful strawberries, why not stuff them…they make such a pretty plate!
Stuffed Strawberries
Strawberries
1 cup heavy or whipping cream
1 1/2 TBS sugar (or more if you want it sweeter)
1/2 teaspoon vanilla (optional)
Wash and dry the berries. Slice the green part of the berry off making a flat surface. Gently cut out a circle from the tip of each berry, digging down a bit pop the tail end of the berry in your mouth or discard.
For the whipped cream:
Place cold cream in your mixing bowl and mix on med-high speed until the cream begins to get firm (about 2 minutes),add in the sugar and vanilla if using and continue beating until nice and thick and peaks hold their place do not over beat unless you want to make butter lol!
Pipe the cream into each strawberry using a pastry bag and tip of your choice, or you can just throw some whipped cream into a sandwich bag, snip off the end and pipe it in that way. I have taken these on picnic's transporting the berries and cream in an ice filled cooler – cream in a baggie, snipped of the end and filled them on site….quick and easy!
Variations: Add in a teaspoon or more of bourbon for an adult kick!
Add in 1 tsp of soft Marscapone cheese to make the whipped cream hold it's form longer.
Fresh whipped cream is best the day you make it.
Enjoy!!
Colleen