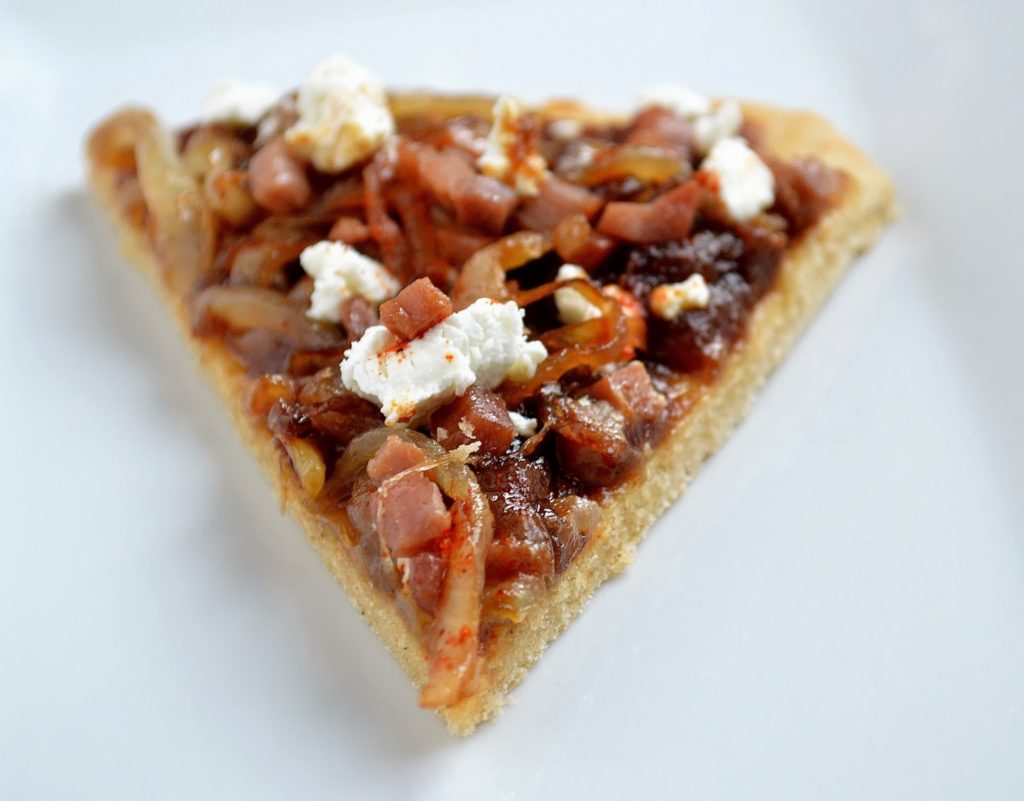 Both my husband and I enjoy heat in our food, I, however, think I enjoy sweet and spicy even more!  There is just something about getting a taste of sweetness followed up with a kick of spice that makes me swoon bite after bite, after bite! Yum!!
Here is a sweet, spicy, savory & delicious idea for your next gathering!  Musselman's sent me a jar of their Apple Butter as well as some fun recipe cards and asked me to either recreate one of their recipes or come up with a fun dish for game day.  Inspired by their pizza recipe I came up with this fun flatbread, which gave me the sweet and spicy flavors I crave!  It was delicious and in my opinion easy to make!
Have you ever had Musselman's Apple Butter?  It has such a nice flavor, you get a burst of slow-roasted apples followed by a wonderful burst of spices!  It's great to spread on toast, muffins and fruit, however, you can do SO much more with it.  A friend once used in on her grilled chicken and it was to die for.  Another friend won a recipe contest with her Sweet and Spicy Bacon Wrapped BBQ Shrimp. (Hmmm sweet and spicy…so I'm not alone here in my obsession!)
Check out Musselman's Pinterest Board for more recipe ideas to make your game day any day…delicious!
This flatbread is SO easy to make, it literally takes minutes to make, requires no resting time and cooks quickly.  I love coming up with fun ways to top it as well as various ways to add bits of flavor to the flatbread itself.
This dish can be made all at once or you can make the components of it, then reheat and assemble them later if you choose.  I love that the apple butter is used as the sauce for this and it required no work from me – sometimes you just have to love a good shortcut…especially when it's this tasty!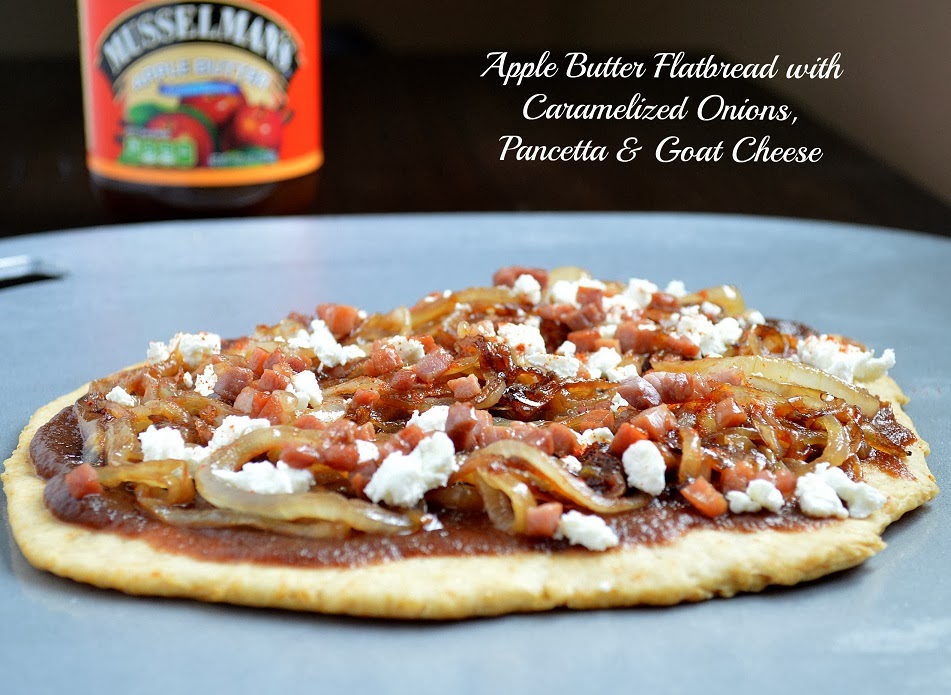 If you enjoy flatbread, here are 2 of my favorites for you to also try – Potato & Caramelized Onion Flatbread and/or Spicy Chicken & Bacon Flatbread with Avocado Cream.
Apple Butter Flatbread with Caramelized Onions, Pancetta & Goat Cheese

Flatbread
1 3/4 cup flour
1 tsp baking powder
1/2 tsp salt
1/2 cup plus a little bit more of water if necessary
1/3 cup grapeseed oil or olive oil plus 1/2 TBS more for brushing
1 TBS Apple Butter (optional but it lends the bread a hint of sweetness)
Preheat your oven to 400 degrees.  Combine flour, baking powder and salt in a bowl.  Make a small well in the center, add the water, oil and apple butter to it and move the mixture around until a dough forms with a spoon or spatula. Then, gently knead the dough for a few minutes, form into a rustic shape with your hands and flatten a bit with a rolling pin (your call how thick or thin you like it – cracker-like or pizza dough like).  Brush the top of the dough with a little grapeseed or olive oil bake it on a parchment-lined baking sheet or directly on a greased pizza pan like the Wilton Armetale above for 15-20 minutes (the thicker you make it the longer you bake it).
You can also make 2 smaller flatbreads (which is what I did this time.  I made one for my lunch and the other I reheated once my husband was home for him to try.)

To make the Topping
2 TBS butter
1 large sweet onion, sliced thin
1 TBS balsamic vinegar
Salt & pepper
1/2 cup diced pancetta
3/4 cup Musselman's Apple Butter
1/2 tsp Cayenne pepper (red pepper)
4-6 oz of plain goat cheese, crumbled
Melt your butter in a large frying pan over medium heat then scatter your onion in, toss your onions around to coat them with the butter.  Allow the onions to sit undisturbed for 5 minutes, then give them a stir as well as a pinch of salt and pepper and allow them to sit for another 3-4 minutes.  Watch them to ensure they do not burn (you may lower the heat since stoves vary).  Add in the balsamic vinegar and give them another toss and lower the heat to med-low and continue cooking your onions until they are the texture you enjoy anywhere from 5-10 minutes more.  Once onions are finished, remove them from the pan and set them aside until assembling your flatbread.  In the same pan, saute your pancetta for 2-3 minutes or until it begins to crisp.  Remove it from the pan and set it aside until ready to assemble flatbread.  Meanwhile, stir your Cayenne pepper into your apple butter and set aside.
When ready to assemble flatbread, spread your apple butter mixture over-top the flatbread, scatter onions over, then pancetta, then goat cheese.  If you like things spicy, sprinkle just a bit of additional Cayenne pepper over the top and serve.
Enjoy