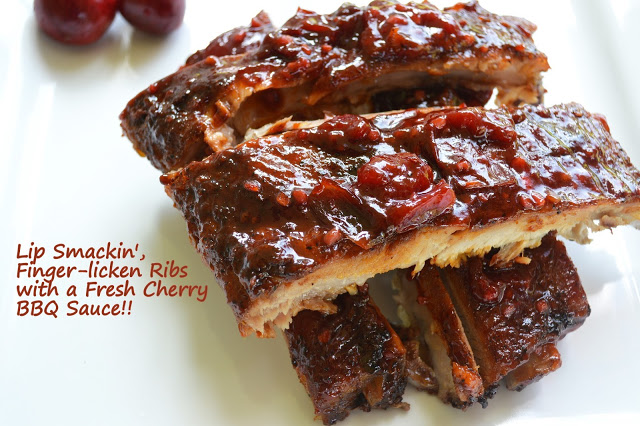 My husband really, really likes ribs.  I however can't specifically remember ever eating them growing up.  I was such a picky eater that for all I know ribs may have been there occasionally, but back then I did whatever I could to not eat most meats.
I literally tried every trick in the book to NOT eat meat, even going so far as to cause a plumbing issue (yup...due to my repeatedly hiding meat from the dinner table in my cheeks, like a chipmunk, then flushing it down the powder room toilet, lol, and THAT was just one of the places I thought to hide the evidence).
I can't have been the only one...right?
Flash forward to my adult life...yes, I began enjoying meat but ribs, they were never of interest to me.  After I met my husband and saw how much he enjoyed them I of course began making them to make him happy (I do love to make people happy through food!).
The first few attempts back then had me boiling the ribs first - In my personal opinion - blech!
Then over the years I settled in on a rib making routine.  My husband, my in laws and my family enjoy them...and you know what, by default, I now totally enjoy them.  It took me a number of years and a bunch of nibbles, but now I would call myself a rib fan.  I just don't like the smoked ribs - the ones men cook on a smoker all day, with a dry rub.  I am not sure why, I see grown men go weak at the knees (including my husband) for those type of ribs - just not me, well not yet anyway!
I saw some beautiful cherries at the farm by me a couple of weeks ago and decided to switch up my typical sauce for something a little different (that and I have a new toy...the OXO Cherry Pitter, that thing is amazing).  My husband loved it!  Hope you will too!
Grilled Ribs with a Fresh Cherry BBQ Sauce


Rack of your favorite type of ribs (I used baby back)
Kosher salt and pepper
2 TBS olive oil
2 TBS minced garlic
25 cherries, pitted and quartered
½ cup water
2 chilies in Adobo, chopped
1 teaspoon of the sauce from the can of chilies in adobo
¼ cup brown sugar
2 TBS lime juice
1 TBS worcestershire sauce
1 TBS rice wine vinegar
Ribs
Season your ribs, tent them with foil and cook in a 325 degree oven for 2 hours.  Remove foil, brush with a bit of the sauce and cook for another 30 minutes. Brush with sauce, grill for a few minutes per side and serve.
Sauce
In a medium pot, saute your garlic in the oil for 2 minutes over med-high heat, being careful not to burn it. Add in your cherries and saute for 1 minute, add in the water and bring to a simmer.  Allow it to reduce by half.  Add in the rest of the ingredients, and simmer until thickened.
Colleen's Notes: My husband and I like spicy food - this was spicy but good.  If you want to tame it down a bit add in ¼ cup (up to a half cup) of ketchup.  If you want it sticky sweet and spicy, add in ¼ cup of honey.  If you want it more tangy, add in some more vinegar.  There is no right or wrong, just adjust it to how you like it best.
You don't have to grill the ribs after they come out of the oven.  I personally like a bit of char which is why I do let them get "kissed" by the grill a bit!  If you grill the ribs right out of the oven, they will most likely flare up so be careful.
You can make the ribs earlier in the day, then grill a bit to heat them just before serving.
Cooking time will always vary by the size of the ribs as well as how many racks of ribs you are cooking.  I enjoy cooking them until the meat is almost falling off the bone - yum!!
Enjoy!