How fun are these Mini Frozen Yogurt Cookie Sandwiches??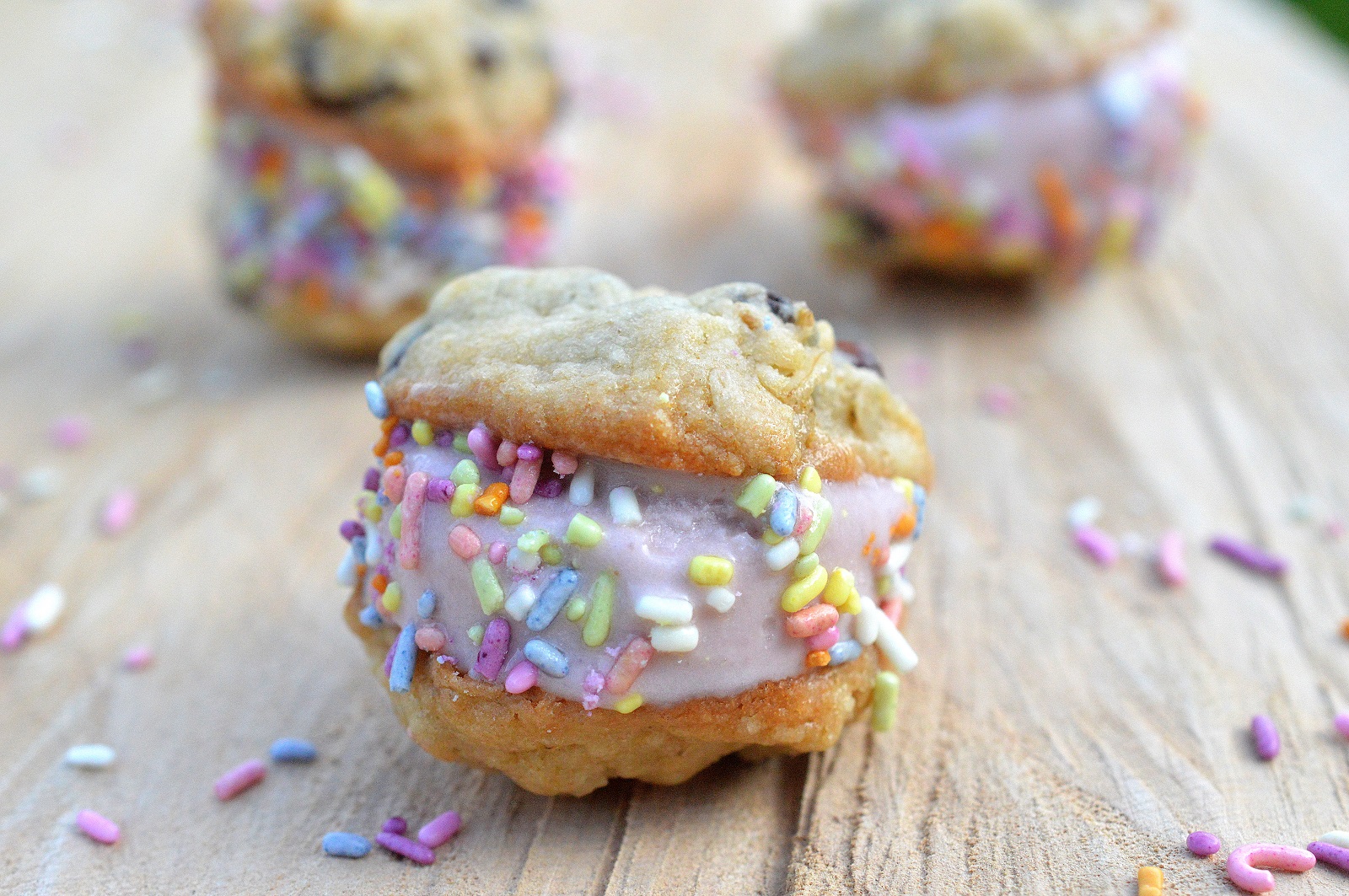 They make a great after school snack or treat for the kiddos.
My daughter who is now 12, only eats fish and some chicken/turkey. She has an allergy to shellfish, meats and all nuts. She also thinks…on her own…about healthy eating. Sure she'll eat donuts or chips but every single day, she asks "what's healthy that I can have" or "is this healthier for me than that", etc.
A few weeks ago, she began asking me what has the most protein in it…this or that. Samantha is small for her age…maybe its genetics (although there are no petite people on either side of our families), maybe its the heart meds I was on when I carried her or maybe its the whole never-ate-meat-thing-because-it-hurts-my-throat. Who knows. She knows protein is something she needs and is now, on her own taking steps to get more. Funny how that works right…we can tell our kids something a zillion times and nothing…Then someone else says it or they read something or better yet, see it on You Tube and BAM! It's gospel!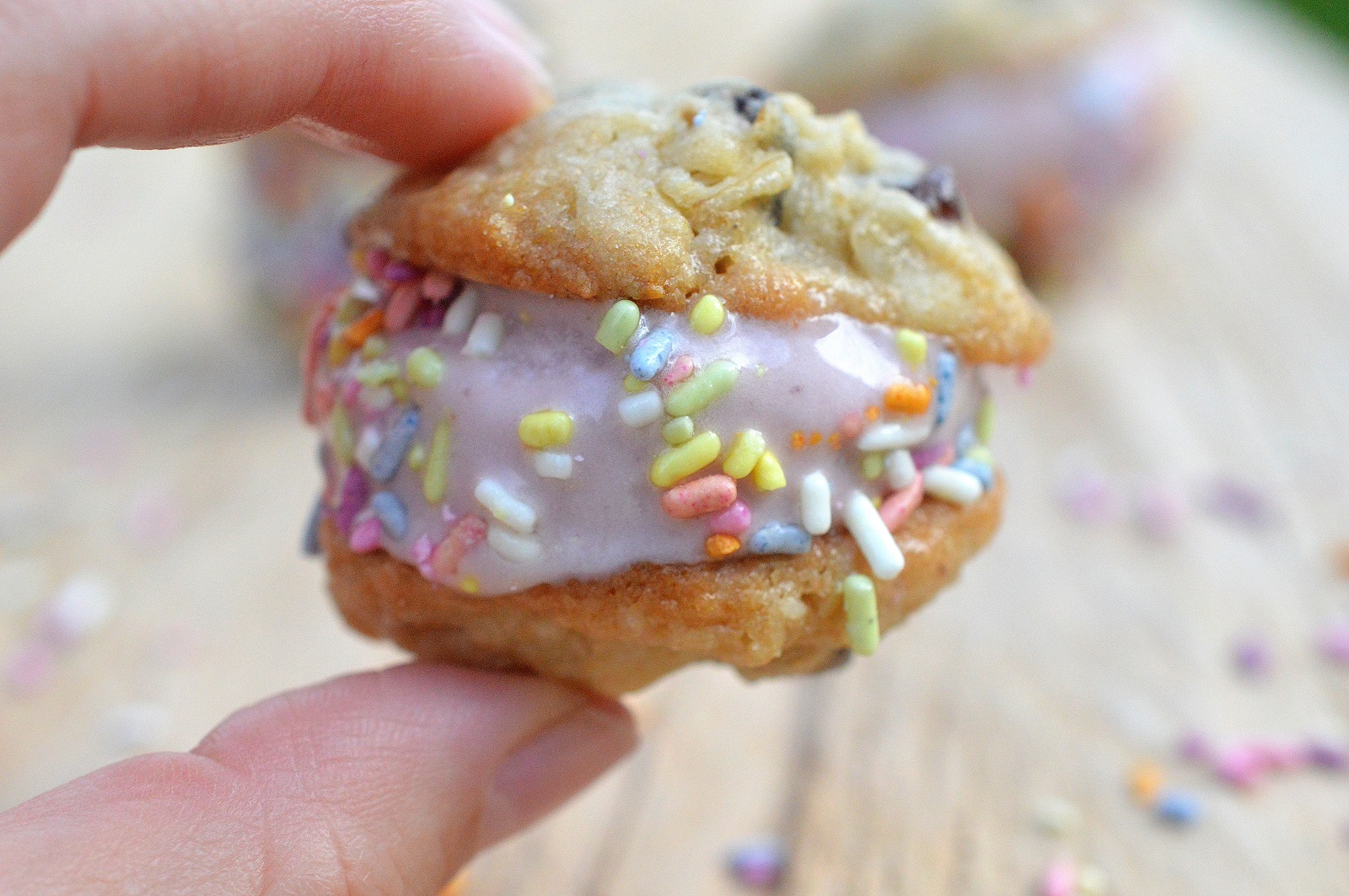 Coincidentally, just after Samantha and I made a list of 20 of the highest protein foods she can eat, I was contacted my Pro Yo Frozen Yogurt to team up on a recipe. I was unfamiliar with the product, however all it took for me to say yes was the fact that it's frozen yogurt in a fun container that I knew my kids would want to eat (they love yogurt), the fact that ProYo is GMO free, soy & gluten free. low in fat and is loaded with protein.
ProYo is one heck of a fantastic good-for-your-body snack!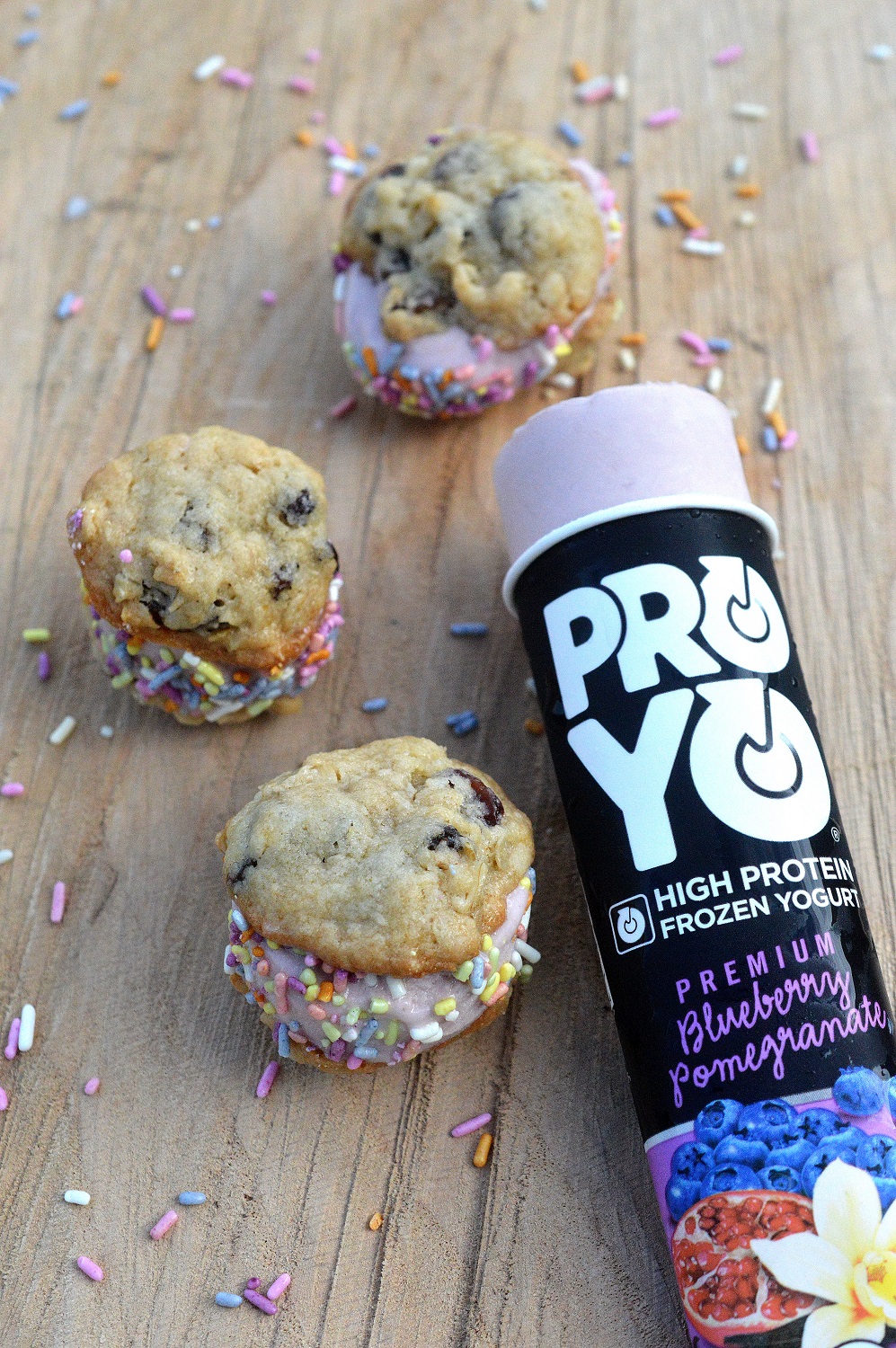 20 grams of protein in each 4 oz serving! What?? That's amazing!  
ProYo comes in a variety of flavors. Dutch Chocolate, Vanilla Bean, Blueberry Pomegranate and Banana Vanilla. They are creamy and taste great, you can taste the quality of the ingredients.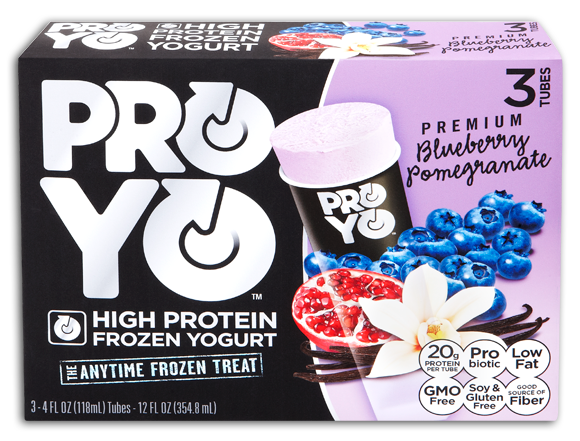 I made my kids and my niece stop eating up the samples that ProYo sent me so I could whip up something fun with them. I decided to make Mini Frozen Yogurt Cookie Sandwiches and surprise the kids after school. I made Oatmeal Raisin Cookies, as minis…stuffed them with the Blueberry Pomegranate frozen yogurt and used these awesome natural colorant sprinkles/jimmies I had on hand for a little flair.
If your kids are not a fan of raisins, just make the cookies plain oatmeal. They went great with the cold creaminess of the frozen yogurt.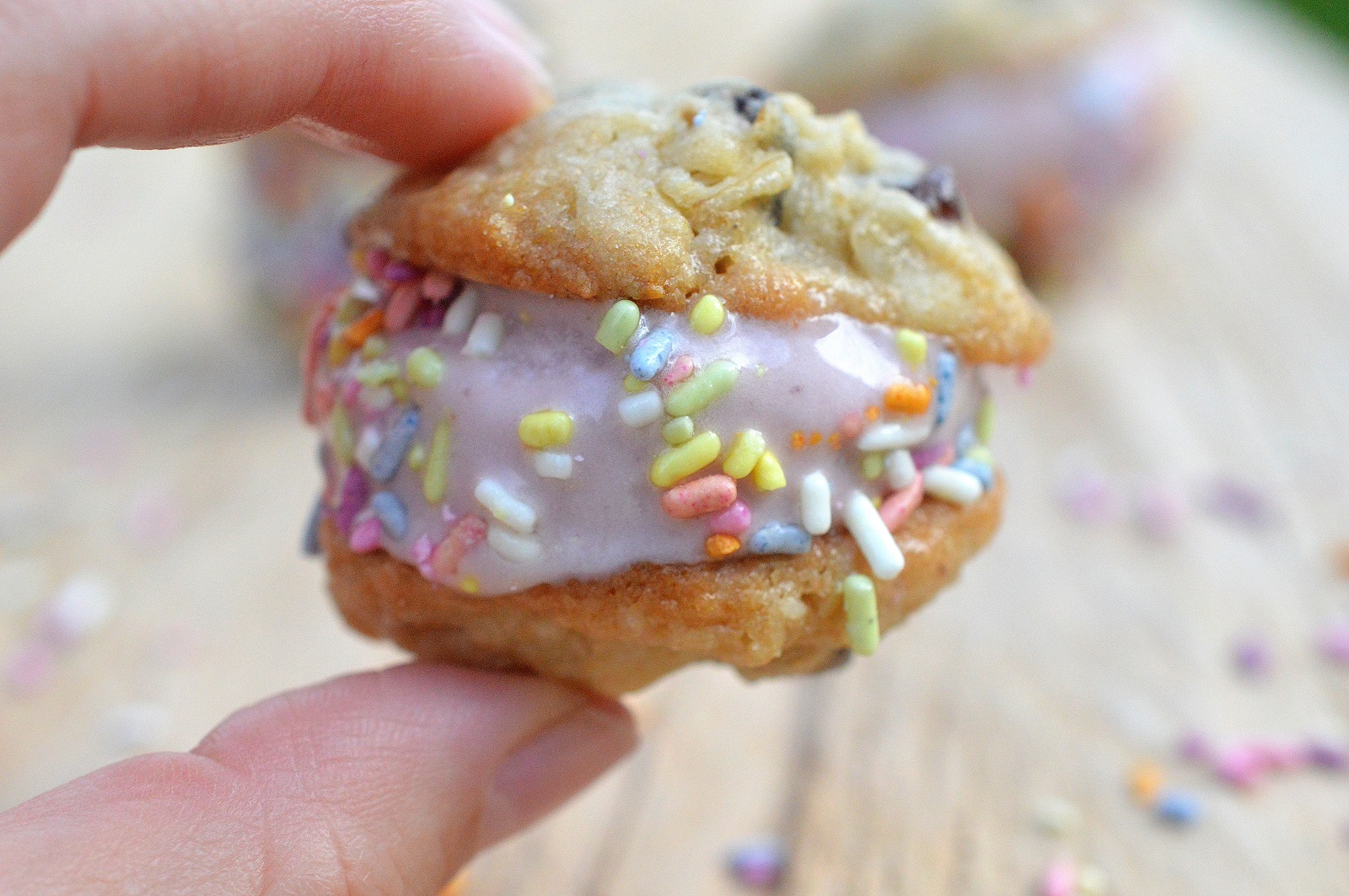 While my kids were enjoying one of the Mini Frozen Yogurt Cookie Sandwiches, my daughter said  "mom, I have an idea…we can make cookie cups for this too". So we did! I couldn't find my wood pastry "thingie" I would use to tamper down the cookie as it cooked, so I improvised and used a wine cork, lol! It worked perfectly.  If you want to make cookie cups, simple grease a mini cupcake pan, press in cookie dough with your fingertips and then 3/4 of the way through cook-time, tamper them down a bit and again after they come out of the oven.  Let them cool and ta-dah! Cookie cups!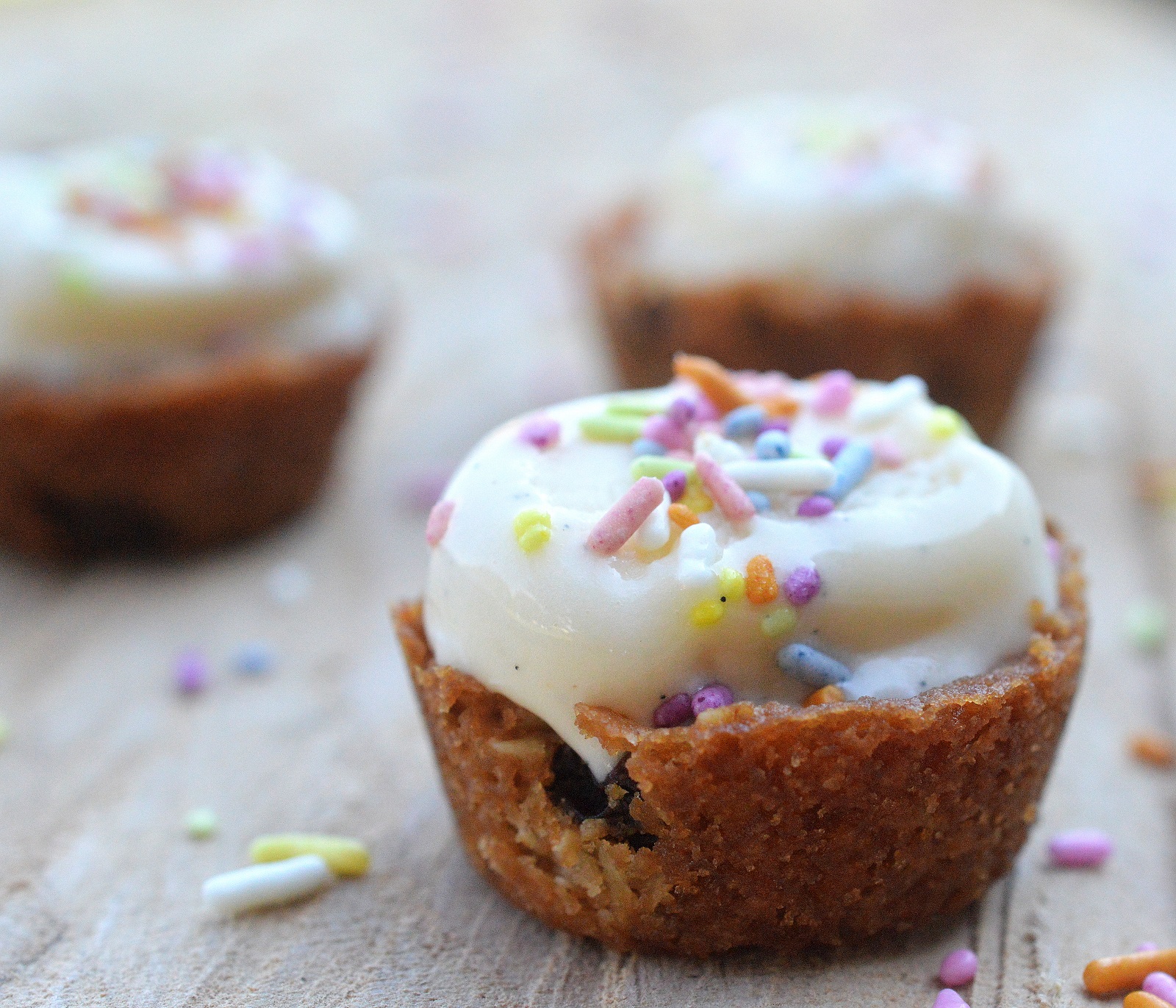 I hope you try out the ProYo High Protein Frozen Yogurt. Who doesn't love a protein-packed good tasting snack that convenient to eat! Check your grocers freezer section or check the store locator, here. I am thrilled to have partnered with ProYo for this post and have now discovered a snack I feel really great about giving the kids and eating myself!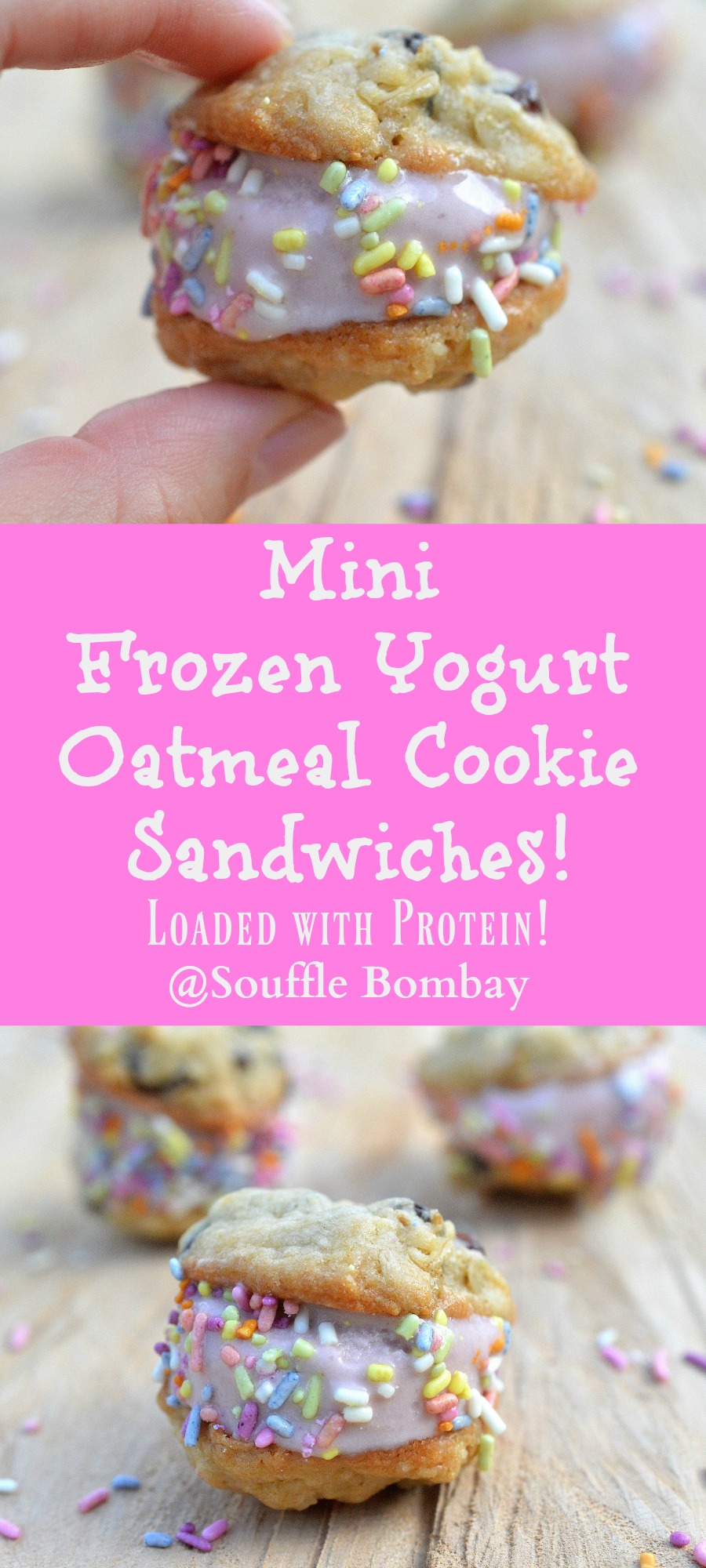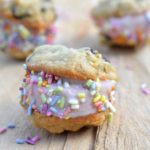 Print Recipe
Mini Frozen Yogurt Cookie Sandwiches
Ingredients
Homemade Cookies made mini-sized

ProYo High Protein Frozen Yogurt

Sprinkles/Jimmies
Instructions
Take chosen flavor of ProYo Frozen Yogurt from the freezer, cut/tear off the paper wrapping and cut into rounds.

Place one round onto the underside of a cookie, top with the underside of another cookie, press down just a bot, roll or sprinkle with jimmies/sprinkles and store in freezer until serving.

You can freeze a dozen on a baking sheet, after an hour, place them in a sealed freezer bag or container.

*When you get to the smaller end, you can mold the yogurt onto a cookie, then top with another.

Keep in your freezer until ready to nserve.
Notes
Oatmeal Cookie Recipe:
2 cups flour
1/2 tsp baking soda
1/4 tsp salt
2 sticks butter, room temperature
1 cup light brown sugar
1/2 cup sugar
1 large egg
2 1/2 TBS light corn syrup
2 1/2 tsp vanilla
1 1/2 cups old fashioned rolled oats
1 1/2 cups raisins
Combine the flour, baking soda and salt in a small bowl and set aside.
In a larger bowl, combine butter, sugars, corn syrup, egg and vanilla and mix until smooth (by hand or with mixer). Add in the flour mixture, the oats and the raisins and mix until incorporated.
Bake as minis (3/4 tsp of batter) for 7 minutes or until done to your liking at 350 degrees on a parchment paper lined baking sheet.
Original cookie recipe from Nancy Baggett