Turkey Peppadew Burgers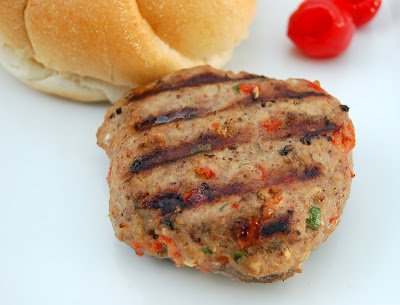 I remember the first time I ever had a Turkey Burger…It was about 20 years ago…my grandmother who was 85 at the time (she is 100 years old now) cooked them up for dinner after work one night when I stopped by for a visit.
At first I was like…"what the heck IS that?" It didn't look appetizing to me at all. However once I took a bite, I fell in love! I think it's the mustard. My husband always jokes, saying I could find a way to put mustard in anything! My favorite mustard happens to be Grey Poupon Country Dijon, think I have said this many times in recipes I have shared that include mustard – I love the coarseness of it as well as the flavor. In my adult life a bottle of yellow mustard has never been found in my fridge or pantry. My children don't even know that it exists lol!
A few times a year I grill up Turkey Burgers, put them on a kaiser roll slathered with a grainy mustard and enjoy the heck out of it!
The other day, I knew I was going to grill up some and I decided to change it up a bit. So I looked around my fridge and decided upon using peppadews (I fell in love with them about 2 years ago and literally order them wholesale in huge cans) for half the burgers and honey mustard for the other half.
Out of the two the Peppadew Burger danced across my tongue! My 10 year old son proclaimed it the best burger of his life, then took a closer look and said "hey what are those red things?" I said "Don't worry about them, it gives the burger flavor…keep eating!" And he did, then he asked for a second burger 🙂
These burgers were juicy and delicious. They were just as good the next day. I was literally counting down the hours until lunch, so I could eat the last one. I didnt even put anything on the roll to tell you the truth – so talk about a healthy burger. They were juicy and full of flavor – be sure you do not overcook them.
However the next time I choose to make these (and it will be soon) and we happen to have someone over, I will make a peppadew remoulade to serve with it, just incase anyone wants to top it off. Me…I'm sticking to it just the way I had it the first time.
Fun Facts!
What is a Peppadew? In 1993, Johan Steenkamp discovered a chest-high bush of them in the garden of his holiday home in the Eastern Cape of Africa. He said "The chest-high bush was laden with small bright red fruit something like a cross between cherry tomatoes and very round chillies and the Peppadew was born. The are sweet with a tiny kick and are also available in a hotter version. Peppadew is a trademarked sweet, red piquanté pepper grown in South Africa. The company uses a secret recipe to cook and pickle this product internationally. Peppadews have only been available in the US since 2002. Recent studies show that this particular plant species is actually native to Central America, but it is not known how it ended up in South Africa. All I can say is thank you Mr. Steenkamp!
For the recipe click here to continue on to Char Broil Live where I am one of the Char Broil All-Stars.
Lots of great grilling recipes and tips can be found there!
Enjoy!!